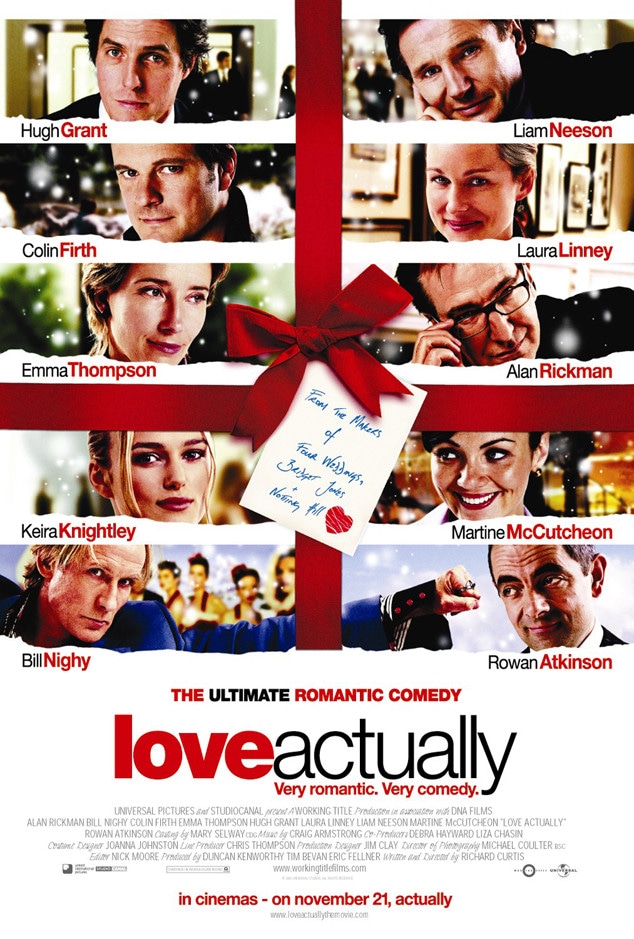 Universal Pictures
Forget hot chocolate and candy canes, our favorite something sweet every holiday season is cozying up by the TV to watch Love Actually.
We cry with Emma Thompson, stand up and sing along to that "All You Need Is Love" wedding scene, and we still haven't learned Colin Firth's Portuguese speech at the end, but we're going to figure it out.
There are characters to root for, identify with, and loathe (forget Snape and Hans Gruber, this Alan Rickman role is the worst.)
It's been 14 years since the now-holiday classic was released, and there are a few love stories that stick with us the most. No one's wondering if that one guy's still hooking up with hot Americans, right?
Though it definitely wasn't easy, we're ranking the biggest relationships in Love Actually. Let's see if you agree with our pick for No. 1...
9. John and Judy: These are the professional nude body doubles. Did you forget their character names? So did we. Being shy and small talking during fake sex is funny, but this storyline is so forgettable. Way to get some simulated fellatio in there though, Love Actually. We totally didn't expect that in a Christmas movie.
8. Colin and the Americans: An English bloke unlucky in love, Colin is convinced he can score with the ladies if he heads to the States and wins women over with his charming accent. You don't really expect him to succeed, but he basically ends up in an orgy with a bunch of ridiculously hot women in Milwaukee, Wisconsin. Dreams come true, man.
7. Sarah and Karl: We want to be sympathetic to Laura Linney's character, and we are, but still... why can't she miss one phone call? We understand that she's responsible for her brother, but she deserves a little happiness too. Hell, she's been in love with Hot Coworker Karl for two years, seven months, three days, an hour, and thirty minutes. Girl at least deserves an uninterrupted Christmas booty call before heading out. This storyline is so frustrating to watch.
6. Juliet, Peter and Mark: If you get past the fact that it's creepy that Mark took a stalker wedding video of his best friend's girl, it's really cute to watch him profess his love to her on cue cards. Even though she's still married. To his best friend. We don't care that there's a false hope kiss and they can't be together, there's still something sweet about it.
5. Karen and Harry: Married Harry is into his sexy secretary Mia (who is dressed as the actual devil), leaving the mother of his children heartbroken and sobbing to a Joni Mitchell CD. Emma Thompson is perfection and so real in this role. Alan Rickman... how could you?
4. Billy Mack and Joe: We love a good bromance. Sure, Billy Mack is a jerk to his longtime manager for much of the film, but he ultimately realizes that Joe is "the f--king love of [his] life." So, they get drunk and watch porn together—because that's what friends are for.
3. Daniel and Sam: This father-stepson duo is by far the sweetest relationship in the movie. They help each other get through grief and make it their mission to help Sam win over his dream girl crush. (We're leaving the American schoolmate and the Claudia Schiffer cameo out of this one. The family relationship trumps all.)
2. Jamie and Aurelia: There's something super-romantic about not knowing what the hell your crush is saying. These two don't need a common language to fall in love. His broken Portuguese proposal may be a little premature, considering they haven't had a real conversation ever, but it's still crazy romantic. Just don't let her meet your brother, dude.
1. David and Natalie: The Prime Minister instantly falls for his new hired help and when he gets happy he dances around in a scene that is such a signature rom com move. After getting tough against U.S. President McCreeper, David has Natalie moved to another job so as not to be distracted. After getting a holiday card from her, he goes on an epic door-to-door search to find his lady. The moment of them getting caught locking lips on-stage during a children's play makes us ridiculously giddy. This story is the standard rom com saga wrapped up in a perfect Christmas bow, and after those Laura Linney and Emma Thompson frown town stories, we'll take it.
Love and Christmas octopuses forever!
What do you think of our Love Actually picks? Tell us your favorite relationship from the movie in the comments below.
(Originally published on Wednesday, Dec. 9, 2015, at 5:00 a.m. PDT.)