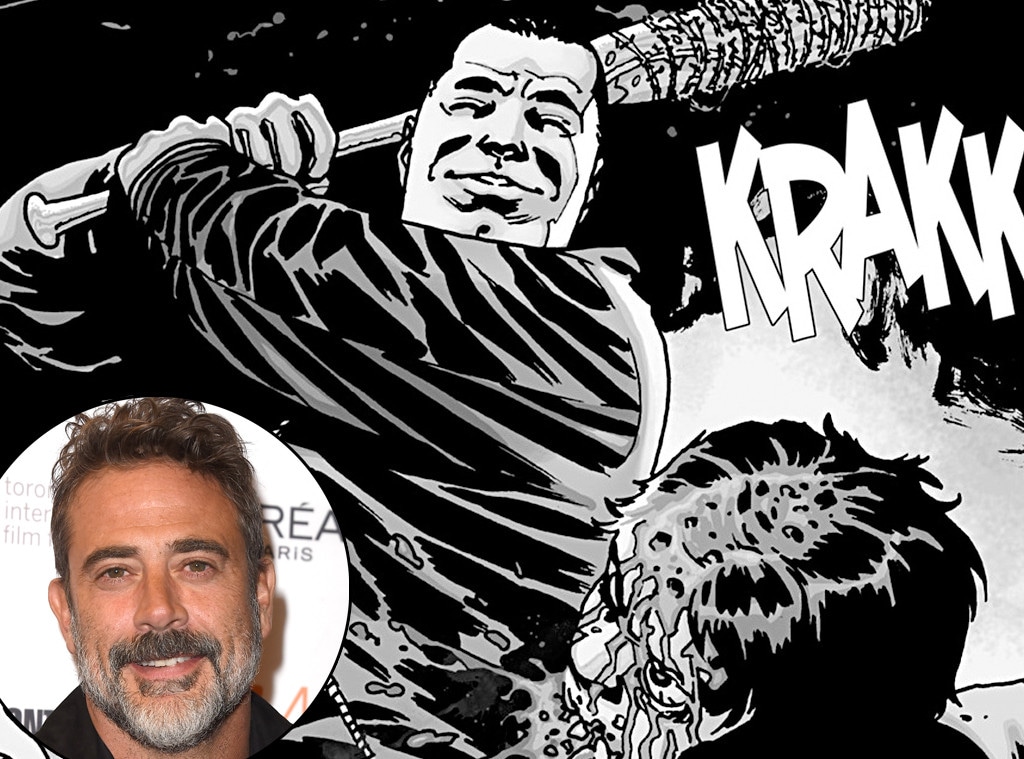 AMC/Getty Images/Image Comics
"I'm prepping for some hate mail," Jeffrey Dean Morgan said about his next role: Negan on The Walking Dead. And that's exactly why he said yes to joining the show.
While at the Supernatural PasCon in Pasadena, Calif., Morgan broke his silence on the huge role he's playing on AMC's zombie apocalypse drama. "It's a whole different ballgame. Y'all know about Negan?" he said as the crowd went wild. "Me, too. It's why I did it."
"When my agent/manager called they said, 'You've been offered this thing on The Walking Dead...it's to play this big bad.' At the time, they didn't know the character's name, because I think it was supposed to be a secret. And I'm like, 'Is it f--king Negan?' And they're like, 'I don't know, we're going to have to call you back, hold on a second.' And I'm like, 'No, it's f--king Negan. And I'm f--king doing it.'"
Morgan is currently heating up The Good Wife as Jason, Alicia's (Julianna Margulies) new investigator. Sparks are flying and they've gotten the attention of Ruth (Margo Martindale) and Eli (Alan Cumming), and the two have tried to stifle the sexual tension. In the process they've managed to piss off both Jason and Alicia. He's had notable roles on Extant and Supernatural and broke hearts on Grey's Anatomy as Denny Duquette. Mostly good guys, "maybe a rough exterior, but a heart of gold," he said.
"I think the challenge for me in this role is going to be, is there any heart in Negan? For me I look at that as a challenge as an actor, and that's the kind of thing that I embrace and really look forward to," he said in the video above. "I am super excited about it; it's going to be cool."
Morgan will make his debut in The Walking Dead season six finale and could become a series regular in the already ordered season seven. Negan's debut has been rumored for some time. Characters on the show recently met members of his band of survivors, the Saviors and will tangle with them further when the show returns from its midseason break. Check out the scene featuring some of Negan's men above. In the comics, Negan brutally murders Glenn (played by Steven Yeun on the show) with Lucille, his baseball bat adorned with barbed wire.
The Walking Dead returns with new episodes in February on AMC. H/T Vulture for the video.
Watch:
How Have "The Walking Dead" Stars Changed?