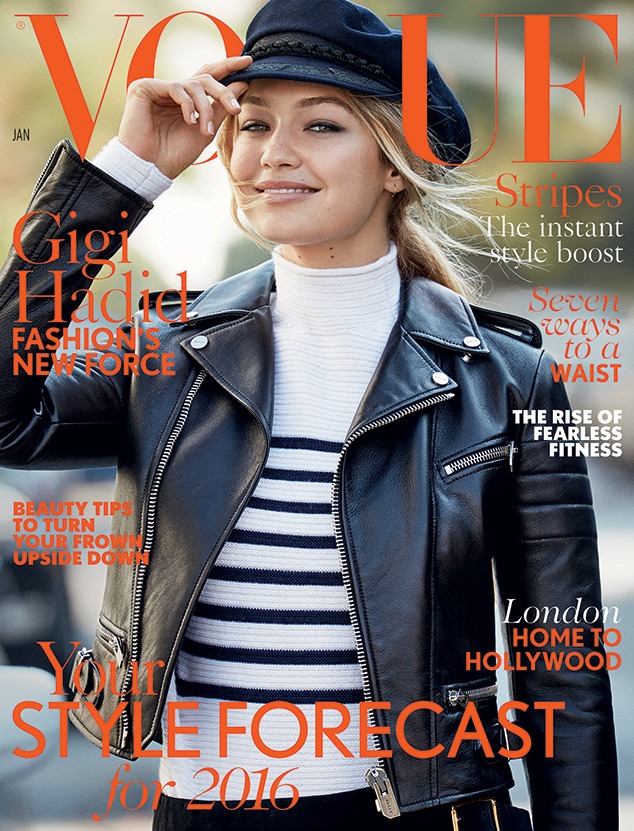 British Vogue
Gigi Hadid has booked her first magazine cover of 2016—and it's a big one.
The 20-year-old supermodel graces the January issue of British Vogue, on newsstands Monday. Making her debut for the magazine, Hadid models a Topshop sweater and a Bally leather jacket. The Malibu blond—who has previously appeared on the covers of Vogue Australia, Vogue Brasil, Vogue España, Vogue Italia and Vogue Nederland—is one of the top models in the industry, in addition to being one of the most popular people on Instagram. In regard to what she shares on social media, she says, "I don't change anything about myself—what I post just works."
"When people are different on social media than they are in real life, it becomes forced. Cara Delevingne was never scared of being weird. She opened that door for me. But I don't think I just get hired because I have Instagram followers. My jobs are also what gets me followers."
There are pros and cons to being Instafamous, of course.
Watch:
Gigi Hadid Thrilled to Walk Runway With Kendall Jenner
Hadid recently made headlines after calling out online bullies who were criticizing her figure and claimed she was curvier than her fellow models. "Yeah, I'm an athletic person. But I love my body because I know what it's been through to be what it is, and honestly I'm not going to change for someone that is depressed about their life," she says. "The Victoria's Secret Angels aren't going anywhere; I'm not going anywhere; plus-sized models aren't going anywhere."
Another model who isn't going anywhere is Kendall Jenner, Hadid's best friend. But though the young supermodels come from similar backgrounds, they're not as alike as one might assume. "Kendall's more guarded. I'm more feisty," Hadid insists. "I don't want to say outgoing, because she is really outgoing once you get to know her. And when we're both having fun, she makes me a lot more spontaneous. It's a good balance. But neither of us likes to stay out past 11."
The January issue of British Vogue is on newsstands Monday.