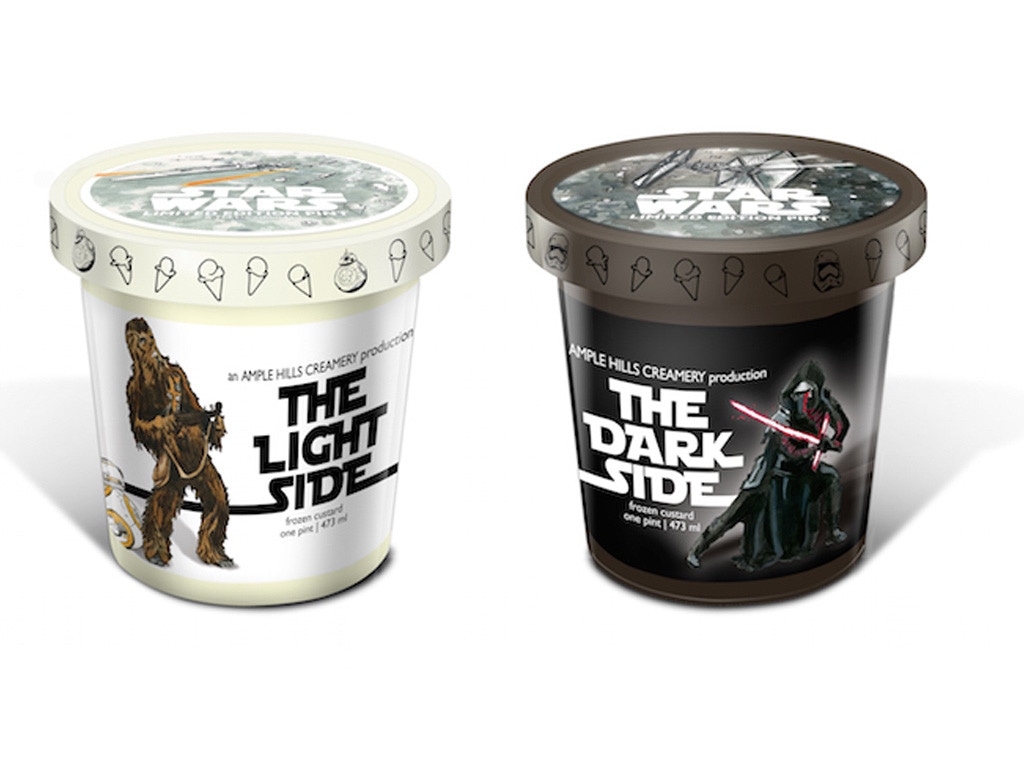 Now that it's officially December, we're only days away from the release of Star Wars: The Force Awakens. Brands are constantly rolling out creative products in celebration of major film releases, and the new Star Wars is no exception. The crafty folks over at Ample Hills Creamery for example just rolled out two limited edition ice cream flavors in celebration of the film's Dec. 18 release. Hungry fans can order a pint of The Light Side or The Dark Side, depending on their flavor preference. The creamery's website notes The Light Side is "A bright marshmallow ice cream with homemade crispie clusters, as well as a smattering of handmade cocoa crispies (to represent the dark side still lurking within the light)." 
The Dark Side, however, "is an ultra-dark chocolate ice cream with espresso fudge brownies, cocoa crispies, and white chocolate pearls (to represent the light still hiding in the dark, waiting to burst through)." EPIC. We couldn't help but wonder what other Star Wars goodies we could scrounge up in time for the films release. We did a little digging and uncovered seven strange-but-necessary items you need to get your hands on if you're going to celebrate the new film in style. Happy shopping and may the force be with you.
1. Put some of that Star Wars ice cream on top of these Death Star waffles and you'll be living your best life. 
2. This R2-D2 pizza cutter comes with sound effects because a regular R2-D2 pizza slicer just wasn't cutting it. Get it!? 
3. Potty train your little Luke Skywalker with these totally necessary Star Wars toilet decals from Etsy. Actually, just buy these for yourself and make your toilet look really cool. 
4. This Darth Vader toaster confirms breakfast is indeed the most important meal of the day. 
5. If you get proposed to and one of these rings is inside, it's safe to say you've found your soul mate.
6. "Let me get in on those Yoda Cheez-It's brah," said nobody ever. Just kidding, we said it, meant it, and we're ordering a box right now. Bye. 
7. This inflatable Jabba The Hut is perfect for that single Star Wars fan in your life. Who wouldn't want to binge watch every film while cuddling next to this big guy?! 
What's the craziest Star Wars swag you've seen? Tell us in the comments! 
Uh-oh!  Find out if Carrie Fisher was pressured to lose weight for The Force Awakens