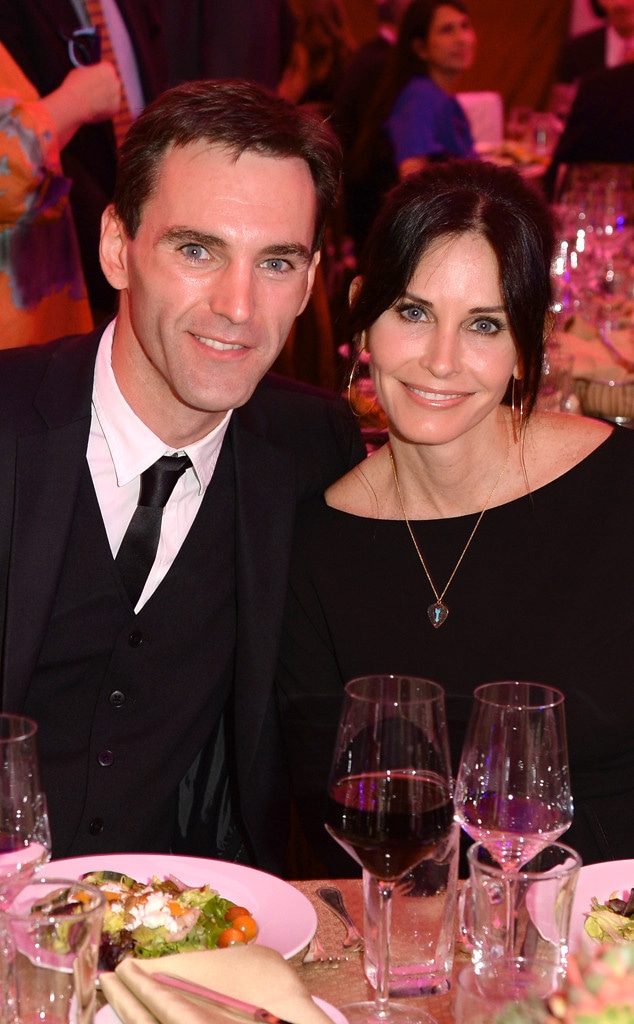 Jason Merritt/Getty Images for UCLA
Courteney Cox and Johnny McDaid have broken up.
A source tells E! News that reports of the actress and her rocker beau ending their engagement are true.
Cox and McDaid got engaged in June 2014 after six months of dating, but the Friends alum, 51, and Snow Patrol musician, 39, couldn't make it work in the end.
They were last photographed out together in August when they both attended the premiere of Hand of God, and Cox was also seen packing on the PDA with her then-fiancé at the end of the summer while vacationing in Cabos San Lucas together.
Cox's last couple-specific post on Twitter was a sweet, affectionate-looking pic of the two shared on Sept. 27.
Reps have not returned requests for comment.
The couple, who met as a result of an introduction by none other than Ed Sheeran, announced their engagement on Twitter with an adorably excited exchange. "I'm engaged to him!" Cox posted, while McDaid replied, "I'm engaged to her!"
Cox later revealed her engagement story on Jimmy Kimmel Live!. After McDaid asked Cox's daughter, Coco, for permission, he and Coco planned to ask at Cox's best friend's house. And whom would that be? Jennifer Aniston, of course!
HUMBERTO CARRENO/startraksphoto.com
"We went to Jen's house for dinner because it was Coco's birthday and she was godmom. They made a plan to count down from three and when they got to one, he was gonna get down on his knee and say, 'Will you marry me?' and she was gonna say, 'Will you marry him?' They planned it out. They found the perfect tree that branches that led to one trunk. It was just beautiful."
"We went to Jen's house. No one knew this was going to happen because it was just a dinner for, essentially, me and Coco. Coco got a little bored, as she does, and right after we were at the bar having a drink, she said, 'Three!' Johnny's like, 'No, not now!' So she's like, 'All right," she recalled. "So, then we go to dinner and there's a salad course or whatever and she's like, 'Oh, my God!' and hits the salad glass, 'Three!' She kept jumping the gun. Finally she waited until after dinner. She was literally about to fall asleep."
Unfortunately, these two couldn't make it work romantically, but maybe they'll remain friends.
The breakup was first reported by Hollywood Life.
—Reporting by Sara Kitnick