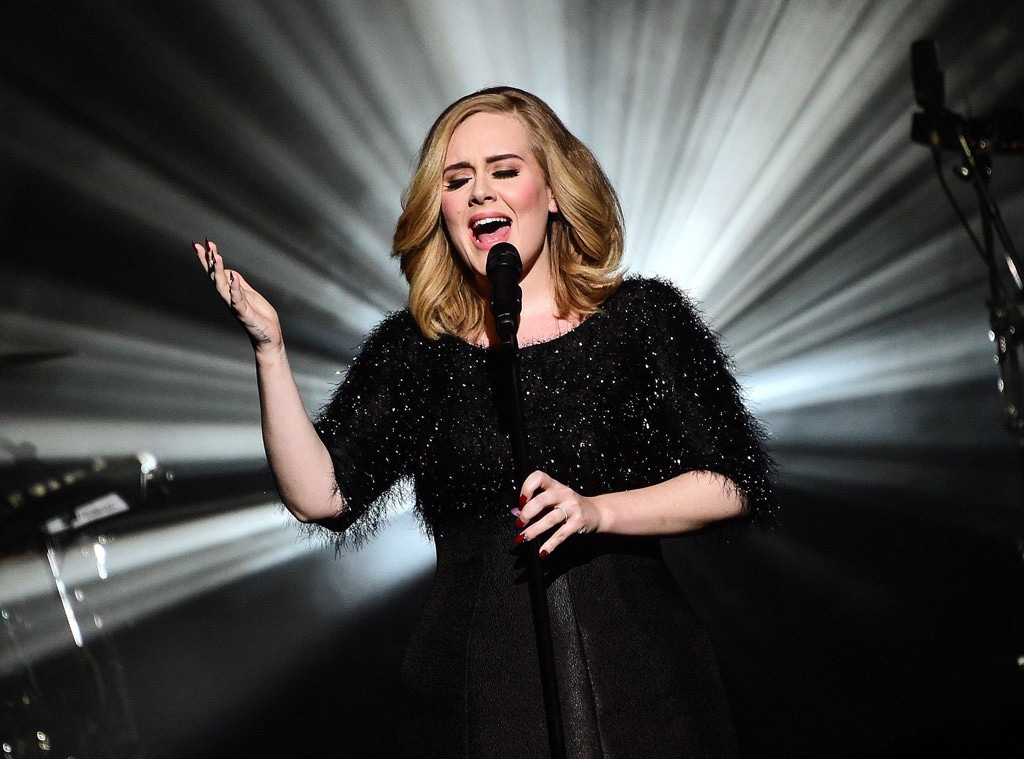 GHNASSIA/NMA2016/SIPA/REX Shutterstock
This just in: Adele's third album 25 has sold 40 bajillion copies in one minute. And it's already won every Grammy, Oscar, Emmy, Tony, Golden Globe and Super Bowl trophy in existence.
Fine, that's a bit of a stretch. But when you look at the numbers, it's really not that much of a stretch. We knew that Adele was going to crush the competition, and we predicted she would mostly likely beat 'N Sync's first-week sales record. But we don't think anyone knew that these kinds of numbers were coming, especially since we're in an era where supposedly no one is buying albums anymore.
Well, apparently if the album is Adele's, everyone is buying them. Check out the facts and figures behind Adele's historic 25 and prepare to have your mind hole blown to pieces:
1. Total number of copies sold to date in the U.S.? 3.38 million. That's more albums than some countries have people. 
2. 25 became the best-selling album of 2015 in the U.S. in just one week.
3. The number of copies sold per minute last week? 335.
4. If you combine all the album sales from the rest of the Billboard chart from 2 to 100, they still would not surpass 25. What if you double all those album sales? Nope. Adele would still be on top.
5. Adele beat 'N Sync's one-week sales record in just three days.
6. 25 had the single largest sales week in the history of Nielsen Music, which began tracking point-of-sale figures in 1991. That means Adele overpowered Eminem, Britney Spears and the Backstreet Boys at the height of their popularity. 
7. 25 sold more albums in one week than Taylor Swift's 1989 sold in one year
8. You might be wondering if anyone actually bought the physical copy of 25 or if everyone just downloaded it. 1.71 million compact discs were sold, which means that with the right artists, people will indeed go out and get the actual CD.
9. 25 accounted for 41 percent of all album sales last week.
10. Due to the success of 25, Adele's previous album 21 has climbed back to the top 10 for the first time in two and half years.
11. The last two artists to have more than one album in the top 10 were Prince and Led Zeppelin (both in 2014). Not bad company for Adele to be in.
12. 25 is the first album to sell more than 3 million copies in one week, and only the second to sell more than 2 million in a week.
13. Take a look at this list of the biggest pop juggernauts on the planet. Regarding first-week sales of new albums, Adele has outsold them all in just a few short days: Beyoncé, Lady Gaga, Justin Bieber, Rihanna, Taylor Swift, Katy Perry, One Direction and Justin Timberlake.
14. Adele surpassed Britney Spears' record for best first-week sales for a female artist. Britney's Oops…I Did It Again held that title for 15 years.
15. The first single, "Hello," became the first song to sell more than one million downloads in one week, and she almost doubled the last record-holder: Flo Rida's "Right Round" (636,000).
16. Adele is an actual angel sent from heaven, put on this planet to save us all from music monotony.
We can't confirm if that last one is actually a fact, but we are inclined to believe it. How else do you explain these crazy numbers?! Oh, wait. It's because Adele is a gifted phenomenon.
Be right back, just listening to 25 for the 50th time. What's your favorite song on the album?