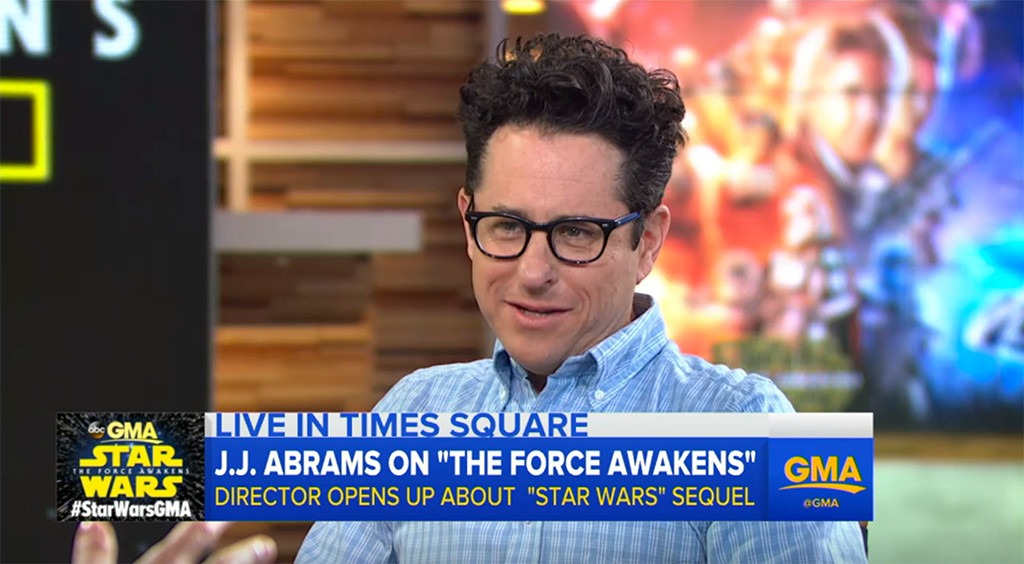 Yahoo
When Star Wars: The Force Awakens hits theaters Dec. 18, audiences will be introduced to two new leads: Rey and Finn, played by newcomers Daisy Ridley and John Boyega, respectively. J.J. Abrams, who directed the movie, explained on Good Morning America Monday why he decided to make a woman one of the protagonists in the seventh installment in the franchise. "It feels like it's been a long gestation period. I'm very much looking forward to the movie being out in the world," he said, reiterating that it's "done" and there are "no changes" to be made.
Admittedly, Abrams has been a fan of the Star Wars films since childhood. "It was a mind-blowing thing because this movie, it was the first time a film that was kind of a fantasy movie looked so real and so authentic. It was funny and romantic and exciting and adventurous, and it had amazing characters," the filmmaker recalled. "And as a kid, it was literally a mind-blowing, mind-altering experience."
With The Force Awakens, Abrams hopes to instill that same sense of wonder in boys and girls alike. "Star Wars was always a boys' thing and a movie that dads take their sons to, and though that's still very much the case, I was really hoping this could be a movie that mothers could take their daughters to as well. I'm looking forward to kids seeing this movie and seeing themselves in it and seeing that they're capable of doing things that they never imagined possible," he said. Later expounding upon his mission as a movie maker, Abrams said, "What I hope more than anything is that they see a movie that tells them that life is full of sort of unlimited possibility that there's a sense of incredible—to use a George Lucas term, 'hope,'—in the world, and that they feel better when they leave than when they got in there."
Watch:
J.J. Abrams Spills on Latest "Star Wars" Trailer
The director added that Ridley and Boyega "are extraordinary" in the movie. "I cannot wait for you to see them," he said, later praising Oscar Isaac and Adam Driver, who play new characters Poe Dameron and Kylo Ren, respectively.
"We have an amazing, amazing cast," he said.
Abrams was careful not to reveal too many details ahead of the film's release.
"Here's the thing: I don't want to obviously ruin the movie for people," he told GMA's George Stephanopoulos. "It's so important to us that we not give too many details and sort of oversell it, which is sort of hard in a movie like Star Wars."