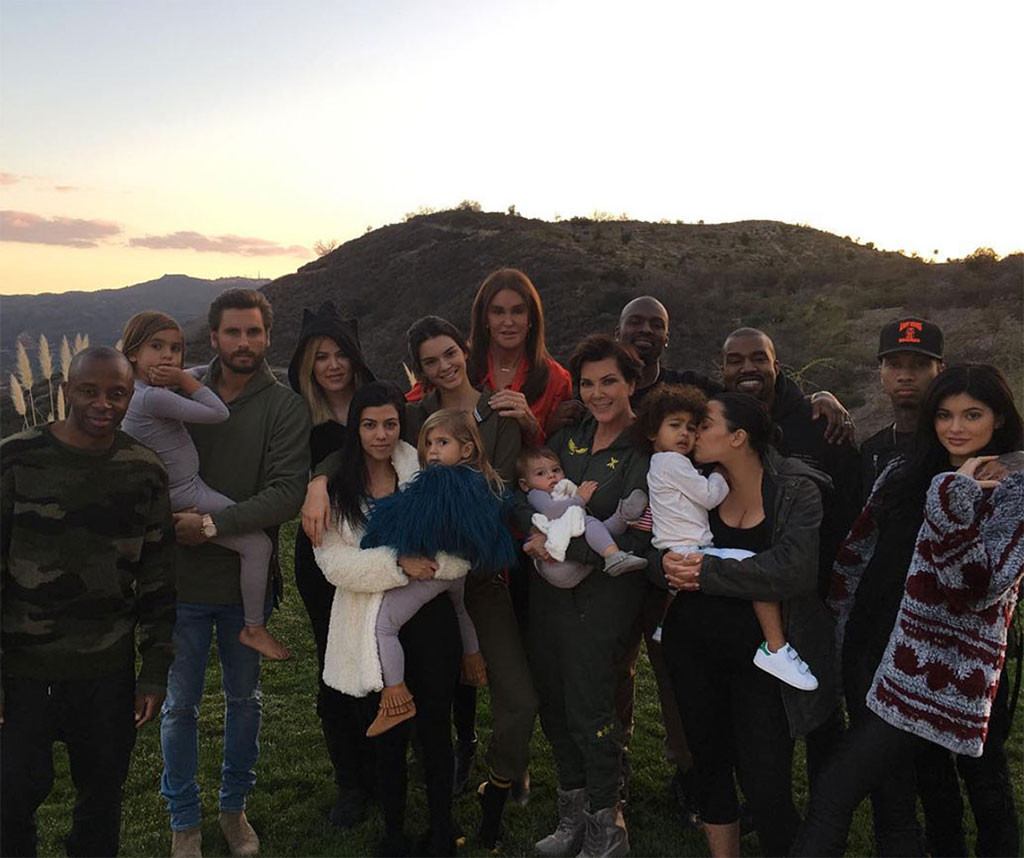 Instagram
Behold the ultimate family photo. 
On the day designated for giving thanks, Kylie Jenner shared the one thing she's grateful for—her "blended family."
The 18-year-old posted a photo of all of the people near and dear to her heart as they all celebrated this Thanksgiving together, including big sisters Kim Kardashian, Kourtney Kardashian, Khloe Kardashian and Kendall Jenner.
In addition to her foursome of siblings, parents Kris Jenner and Caitlyn Jenner also posed together among the posse, which also featured Kris' new boyfriend Corey Gamble, Kim's smiling hubby Kanye West and daughter North West, who rocked an adorable head of wild curls as her momma planted a big kiss on her cheek. 
While Kourtney may have broken up with her longtime partner Scott Disick, they were spotted together a day prior and now he joined the family for their Thanksgiving feast, pictured in the photograph holding his oldest child, son Mason Disick. Sister Penelope Disick and brother Reign Disick were not far away, being propped up by mom Kourtney and grandma Kris respectively.
Last but not least, Kylie's on-again off-again beau, Tyga, held Kylie's shoulder as they cozied up together for the shot.
From Khloe's earlier preview of her decorated table for the day of festivities, we should have known most of the members of the famous family would come together for the main event, even if they have been facing their share of individual hurdles in the last few weeks.
Up until recently, Khloe has been battling a staph infection that left her family wondering if she would even be able to play host for the day.
"It's supposed to be at Khloe's house, so well see. If not, you know me—I'm next in line," mom Kris joked to E! News just days ago.
Still, Khlo pulled through with stunning decor and even more impressive spread of classic desserts ready for her bevy of friends and family to feast on. 
Happy Thanksgiving to all!