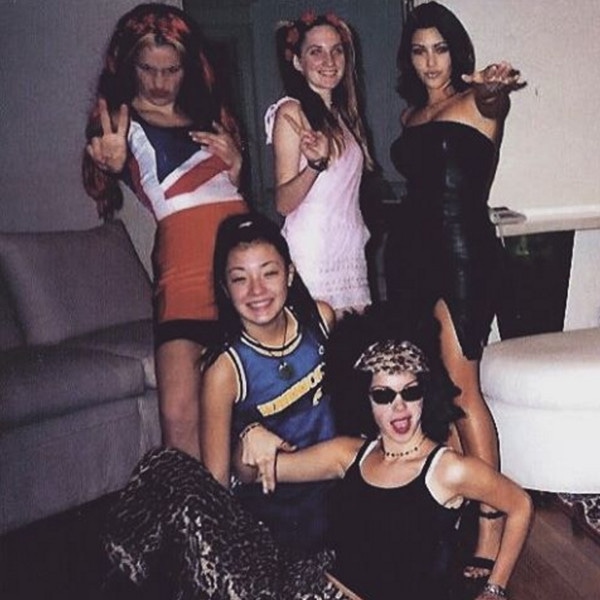 Instagram
Kim Kardashian was posh even back in high school.
No, really.
The pregnant 35-year-old Keeping Up With the Kardashians star posted on her Instagram page on Thursday, Thanksgiving Day, a throwback photo of her and her friends dressed up as the Spice Girls. Kim was Posh Spice, aka Victoria Beckham.
"I'm so Thankful that me & my friends were the Spice Girls for our high school talent show!" Kim wrote. "The Spice Girls got me through a lot! #ForeverThankful."
Kim was about 16 when the Spice Girls' debut single, "Wannabe," was released in the United States.
Ron Galella, Ltd./WireImage
She has expressed her love for the pop group on social media before and even got to meet member Mel B, at a pre-ESPYs party in 2010.
OMG the Spice Girls!!!! My obsession!

? Kim Kardashian West (@KimKardashian) August 12, 2012
Jason LaVeris/Getty Images
As for Thanksgiving, her sister Khloe Kardashian, 32, has taken it upon herself to cook and host the holiday dinner for her family at her house.
Kim is currently in the third trimester of her second pregnancy. She and husband Kanye West, 38, are expecting a boy, who will join big sister North West, 2.
Kim recently revealed that her baby is breech, meaning he is in the wrong position, which may mean he will have to be delivered via a Caesarean section.
Watch Keeping Up With the Kardashians on Sundays at 9/8c on E!