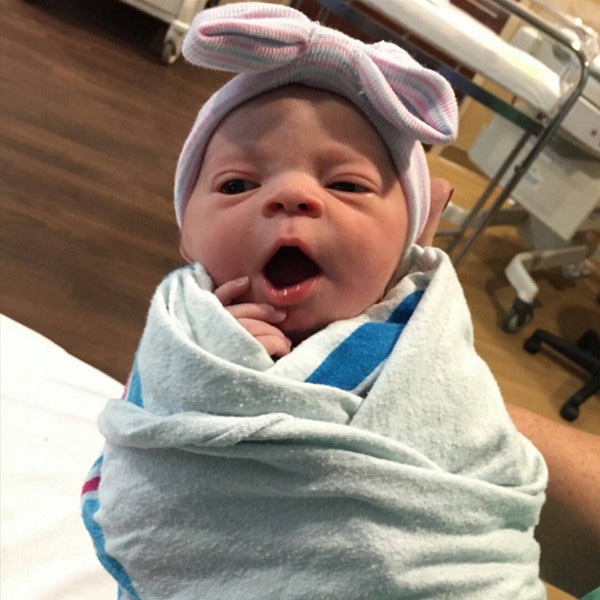 Instagram
Welcome to the joys of motherhood, Coco!
The talk-show host and husband Ice-T welcomed their first child together, a beautiful baby girl named Chanel. Coco posted a photo of their daughter on her Instagram page shortly after giving birth Saturday morning. 
"Surprise!!! Look who came early!!" she wrote. "Welcome the new arrival of Chanel Nicole.. A beautiful healthy 5.7 pound and 18 inch baby girl. Ice and I are so proud! I cried while she was coming out I was so excited to meet her!"
Less than four hours prior, Coco shared a photo of herself sporting a baby bump while standing next to her fully decorated Christmas tree.
"My 37 week bump!!" she wrote on Instagram. "This baby is coming early—a mothers intuition...#ChanelNicole is trying to make her appearance."
Chanel's arrival comes after the fitness enthusiast and former reality star has been documenting her journey to parenthood in several pregnancy blogs exclusively for E! News.
For starters, the 36-year-old made it clear that she was more than a little excited to welcome a baby girl into the family. After all, she's been around a decent amount of testosterone over the years.
"I've been underneath the roof of a male dominated house forever. Ice-T is very male. The dogs are very male," she shared with us. "I was like, God give me a girl so I can liven things up with some cute fashion. I can have a personal doll. So God answered my prayer and I got a little girl so why the hell not would I want to dress her up?"
All those designer outfits—and even a few pairs of heels—have been compiled into one fabulous closet fit for a fashionista in training. "I just can't wait to dress her up. You know I never had a doll in my life.  Never had a Barbie my entire life," Coco explained. "So this is my first real life doll."
Despite her visible excitement, Coco still managed to make a few headlines for what some fans called a smaller than expected bump.
After numerous people on social media began questioning the mom-to-be's pregnancy, Coco decided to silence the doubters with a few revealing baby bump pictures.
"Strange thing is I will miss her inside of me," she wrote on Instagram this weekend. "I really enjoyed the experience My goal was to make pregnancy look positive, fashionable, cute, fit and healthy every step of the way. There were a lot of unbelievers along the way but honestly I'm used to that..Thanks to all the lovers that have been interested with my journey from the beginning and also a true 'Coco Fan'...I wish I could hug everyone of you."
"I'm trying to always prove a point to those people who are doubting me. I'm not going to try and prove a point anymore. You're going to believe what you want," she also explained in one of her pregnancy blogs. "As long as my doctor is saying everything is okay, I'm not going to go by strangers who don't have the education of my doctor."
Today, both Ice-T and Coco are thrilled that their "high-risk pregnancy" ultimately led to a healthy and smooth delivery.
"In the end, we are very excited. We had a baby name picked out 10 years ago and we just want a healthy baby," she shared with E! News. "God is on my side and he gave me what I wanted and I'm grateful."
Congratulations to the couple on their big news! 
Watch:
Coco Austin Defends Her Baby Bump to Haters