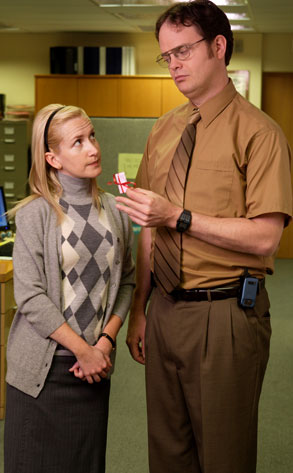 Paul Drinkwater / NBC
The secret—or was it covert? Romantic? Just plain wrong?—wedding of Dwight and Angela was attended by 8.3 million members of The Office family, Nielsen estimates said.
The NBC comedy held steady with its previous new episode. Its time-slot companion, 30 Rock (7.1 million), was up a tick in the 18-49 demo for Liz Lemon's high-school reunion.
CBS' CSI (17.4 million) and ABC's Grey's Anatomy (15.2 million) were, per usual, the night's biggest shows. It wasn't a great Thursday for either. CSI was down about 1 million viewers; Grey's was down about 10 percent in the demo.
Elsewhere, Barbara Walters' latest special (13.2 million) did what Life on Mars hasn't for ABC—held on to a good portion of Grey's audience. CBS' Survivor: Gabon (12.8 million) dropped another castaway but added on viewers. Fox and the CW phoned it in with repeats.