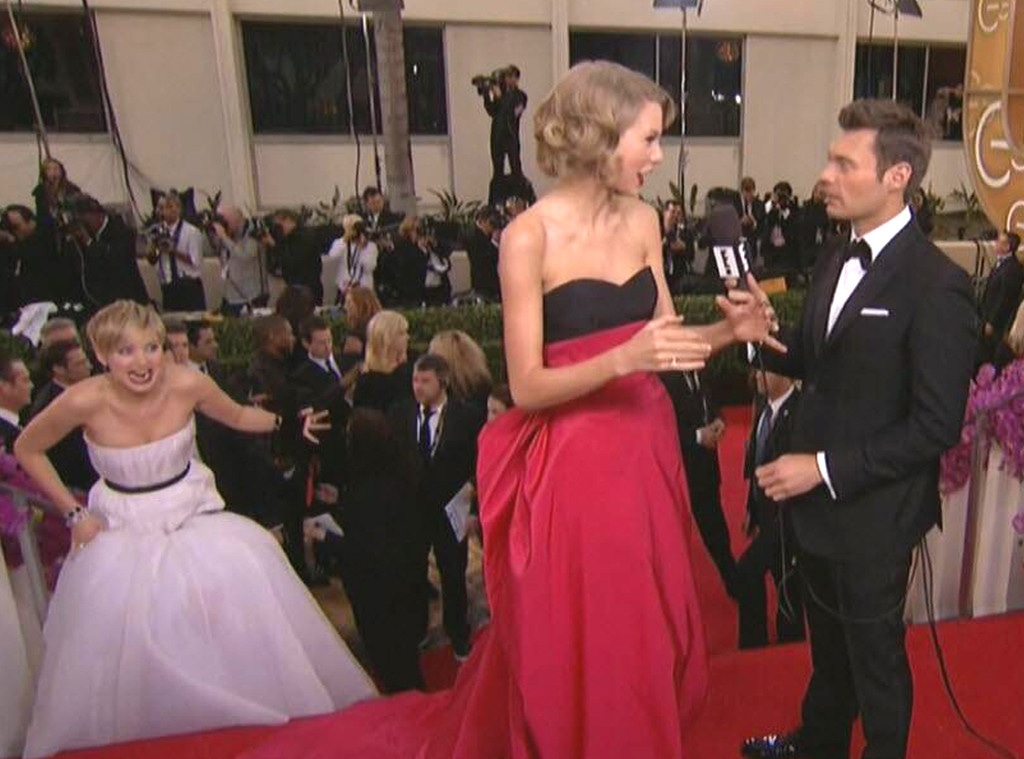 E! Entertainment
We like to think Jennifer Lawrence is thinking this in the above photo with Taylor Swift:
"Hey, girl. I'm coming for your Squad Goal Queen title. I'll be the one repping squad goals from now on."
To be clear, we don't really want to pit Jennifer Lawrence against Taylor Swift, because both ladies are fabulous and all their friends are fabulous and it's all very fabulous. But we thought since JLaw has been spotted out with some pretty badass humans recently, it might be time for Taylor to hand the #SquadGoals torch over to the Hunger Games star.
Is Taylor's reign as Hollywood's squad captain coming to an end? And if so, can we combine both of these groups to make one giant, awesome, talented super-squad?! And finally, when can we stop saying the word "squad?" We're going to present seven types of friends that currently exist in both Taylor and Jen's orbit, and we'll let you guys vote on whose crew is superior:
1. The Women in Comedy
Taylor has Lena Dunham, who writes, directs and stars in a critically-acclaimed TV series, while Jen is off dancing on Billy Joel's piano with 2015's hottest star, Amy Schumer. Both are feminists, both are extremely smart and neither have replied to our applications to be their best friend.
2. The Singers 
Adele is basically the only artist that matters right now. She broke 'N Sync's one-week album sales record in only three days. And that's during an era where nobody buys albums anymore. That's actually insane. Lorde was a cutting-edge new artist that the music world desperately needed in 2012, and she's been killing the game ever since.
3. The Really, Really Attractive Humans
Karlie Kloss is so pretty it hurts to look at her. Liam Hemsworth is so hot that we actually sweat when we look at photos of him. ... What were we talking about?
4. The Child Stars Turned Mega Stars
Both Selena Gomez and Josh Hutcherson managed to go from child star to bonafide Hollywood star without any highly-publicized meltdowns, career bumps or controversial drama. However, Selena dated Justin Bieber. More than once. So, we can't exactly give her props for that.
5. The TV Stars
Serayah is on one of the hottest shows on television right now, the one and only Empire. Meanwhile, Aziz Ansari followed up his role on the beloved comedy Parks and Recreation with a critically adored Netflix original series called Masters of None. 
To be fair, Emma Stone is also a friend of Taylor's. But for this analysis, we will put her in Jen's camp since they were just spotted together. Anyway, Emma Stone is...Emma Stone. Charming, adorable, talented and hilarious. Cara Delevingne is a model-turned-actress, so she's not as seasoned as Emma, but she's got some really buzzy projects coming up. Suicide Squad, anyone?
9. The Hunks
Taylor's main squeeze is Calvin Harris, the music superstar/hottie with a body. Jen is fictionally hooking up with everyone's favorite Star-Lord/Dino trainer Chris Pratt, but they also seem to be buddies offscreen. If he wasn't married to the perfect Anna Farris, we'd totally ship Jen and Pratt.
So now that you've looked over the evidence, who do you think has the better squad: JLaw or Swifty? Vote in our poll below, and remember that this is serious, important stuff!*
*It's not, but vote anyway because it's fun 
Taylor's Squad vs. JLaw's Squad