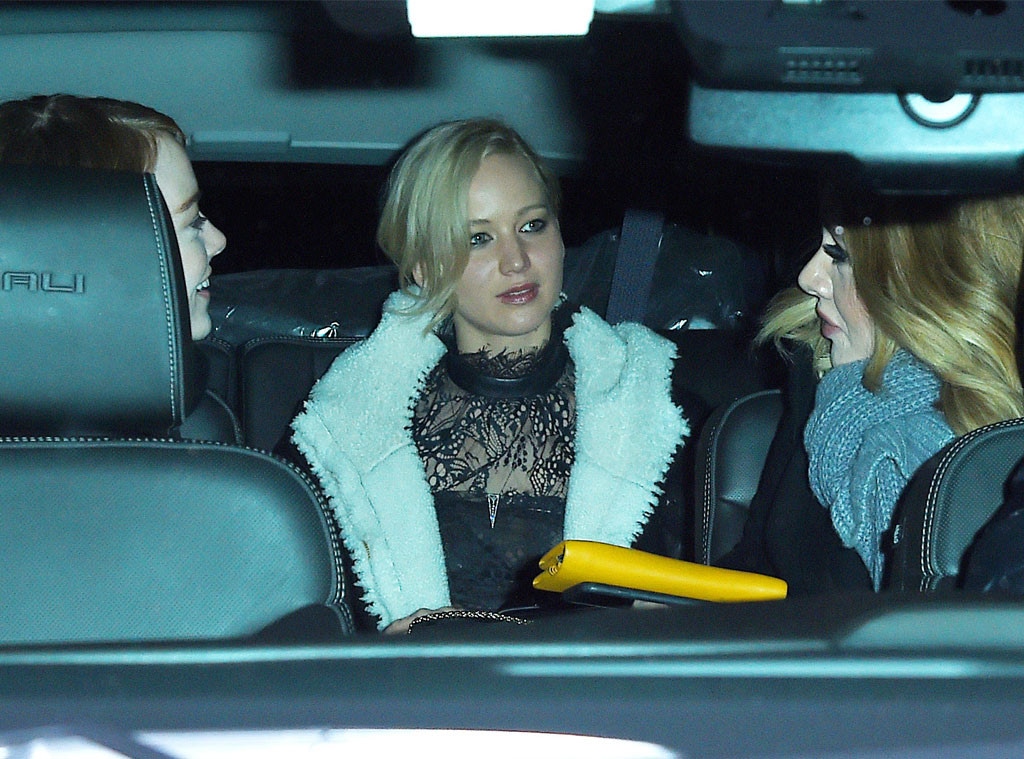 Josiah Kamau/BuzzFoto via Getty Images
Taylor Swift's squad has nothin' on this group.
No, your eyes aren't deceiving you: Emma Stone, Jennifer Lawrence and Adele hit the town together last night in New York City. The A-list trio grabbed dinner at Cosme, an upscale Mexican restaurant in the Flatiron district, shortly after Adele wrapped up her appearance on The Tonight Show Starring Jimmy Fallon. A source tells E! News an assistant booked a reservation for the ladies, who dined on duck carnitas at Cosme.
Emma, 27, J-Law, 25, and Adele, also 27, all seemed to be in good spirits on their way to and from the restaurant. The ladies—who have two Academy Awards and three Oscar nominations between them—were photographed smiling and laughing together in the back of a shared town car, too.
And while we noted that this mega-talented trio trumps T-Swift's rotating lineup of onstage BFFs, the pop star herself would likely be a welcome addition to any Adele, Jen and Emma hangout sesh. Taylor's been friends with Emma for years and has a sweet history with Jen, too. Plus, Tay and Adele are both on team no-streaming, so they've at least got that in common.
Basically anyone Jen wants to hang out with is pretty legit. As she recently told Entertainment Weekly, who named her their 2015 Entertainer of the Year, she has "a very small circle" for exactly this reason. "The moment I feel like someone is using me or is in it for the wrong reasons, I have zero guilt about just cutting them the f—k out of my life," she said. "My bulls—t detector is phenomenal. None of my friends bulls—t me. Everything in my life has to be real."
BlayzenPhotos / Splash News