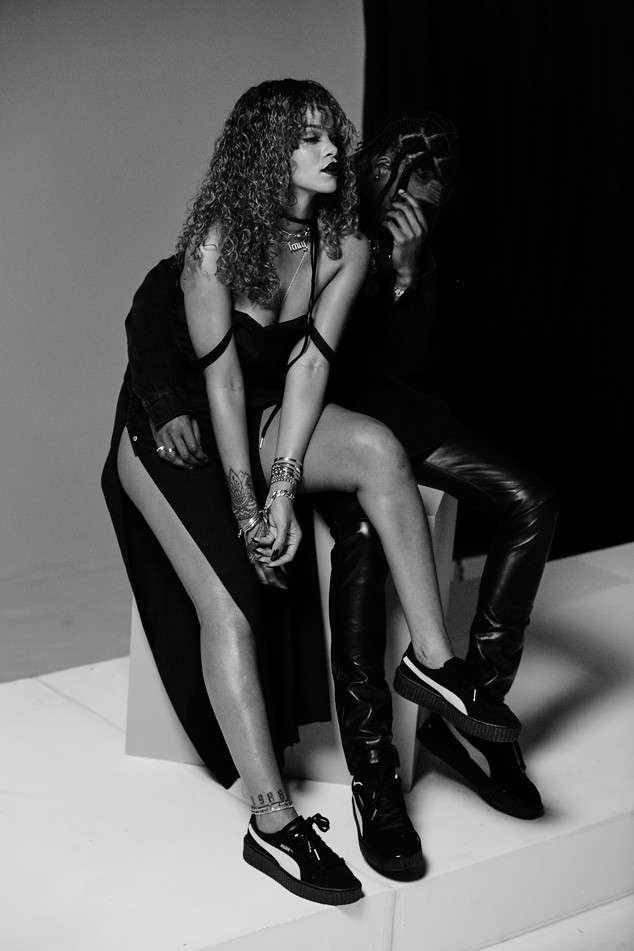 PUMA by Rihanna
Rihanna's hittin' the road&mdashh;and she's taking her man with her!
The "Bitch Better Have My Money" singer just announced that she's launching a worldwide tour for her upcoming album, Anti, and she's got several famous faces joining her.
RiRi's boyfriend Travis Scott will be on tour with her as the opening act for the North America leg, while The Weeknd and Big Sean will be headed to Europe for that portion of the tour.
The Anti World Tour begins on Feb. 26 in San Diego at the Viejas Arena and the final North American date will be on May 7, back in California, at Oakland's Oracle Arena.
Later in April, the Grammy-winning songstress will travel to Europe for her two-month stint there.
Dates for tour will go on sale to American Express card members and Tidal subscribers on Nov. 30, and then to the general public on Dec. 3.
Rihanna fans have waited over three years for her upcoming album, and despite multiple teasers recently with Samsung, there's still no official release date.
She revealed the Roy Nachum-designed album cover and the title in early October, and has continued to build the hype for the upcoming body of work ever since.
Related:
Rihanna Unveils Sexy New RiRi Fragrance
So, it begs the question, is Rihanna about to pull a Beyoncé and drop Anti out of the blue?
And at almost midnight? Only time will tell.
Multiple outlets are reporting that the Bajan beauty is slated to drop her album on Black Friday exclusively on Tidal, with a Dec. 4 wide release. Hmmm…the latter date just happens to be Jay Z's birthday. Coincidence? We think not!
Rumor mill aside, she's playing the long game with this album and has felt the pressure to rush it to fans.
"It's not done! To me, it's never done until it's done. Until the final moment," she told NME magazine in September.
"No matter what I post online, within three comments there's somebody saying, 'Where is R8?' I could post anything. Nothing else matters. They don't care about anything but that. But it makes me excited, because I can't wait to give them something great."