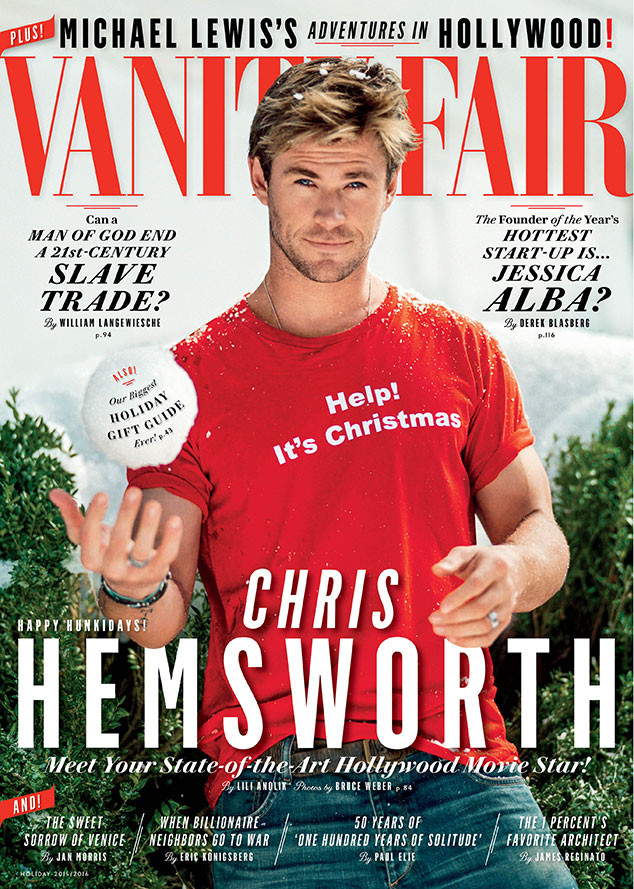 Bruce Weber exclusively for Vanity Fair
Typically it's the Macy's Thanksgiving Day Parade that kicks off the Christmas season, but it looks like Chris Hemsworth and his Vanity Fair holiday cover are ringing things in this year!
The 32-year-old The Huntsman Winter's War star looks as handsome as ever wearing jeans and a red T-Shirt with the words, "Help! It's Christmas" printed across his chest. Inside the mag, Chris speaks candidly about being grateful for his success yet perturbed by parts of what come with it—like the paparazzi.
The humble-to-a-fault Thor hunk tells Vanity Fair with a laugh that he's "not complaining," but it's clear he wishes he were able to be like brother Liam Hemsworth's Hunger Games co-star. "What was it Jennifer Lawrence said? 'I know everyone said you're not supposed to complain about the paparazzi. Well, I don't give a s--t. I'm f--king complaining!'" he said. "But she can get away with that."