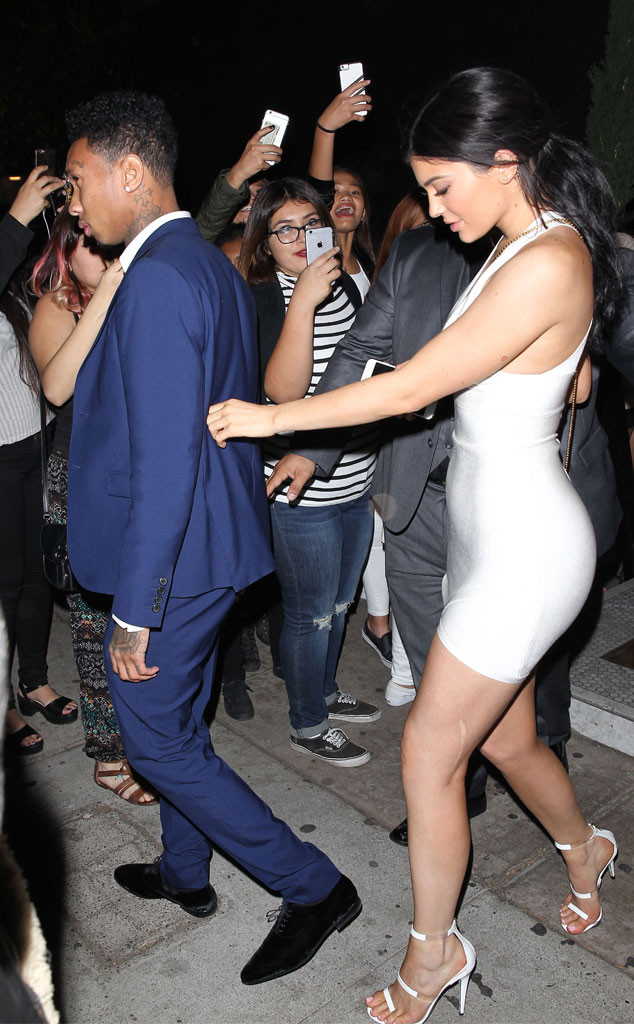 Maciel-Roger/AKM-GSI
They broke up last week, but are Kylie Jenner and Tyga thinking about getting back together?
The former couple stepped out together after the 2015 American Music Awards Sunday night to attend Justin Bieber's after-party. When it was time to leave, Kylie and Tyga were spotted heading out together, and the Keeping Up With the Kardashians star made sure to hold on to the 25-year-old rapper as they made their way out of The Nice Guy.
Kylie and Tyga have sparked rumors of a reconciliation ever since she posted a cryptic Snapchat of them lying together. "Everyone needs to chill," she wrote at the top of the pic. Ever since then she and Tyga have been riding the relationship rollercoaster, teasing fans of a potential reunion, and according to a source, these two will keep riding that wave for a while.
"This is not the first time or the last that Kylie and Tyga will breakup to makeup," an insider told E! News. "Kylie and Tyga's age difference does add a bit of pressure to the relationship. Tyga is a father and has had more relationship experience than Kylie, she's still growing up."