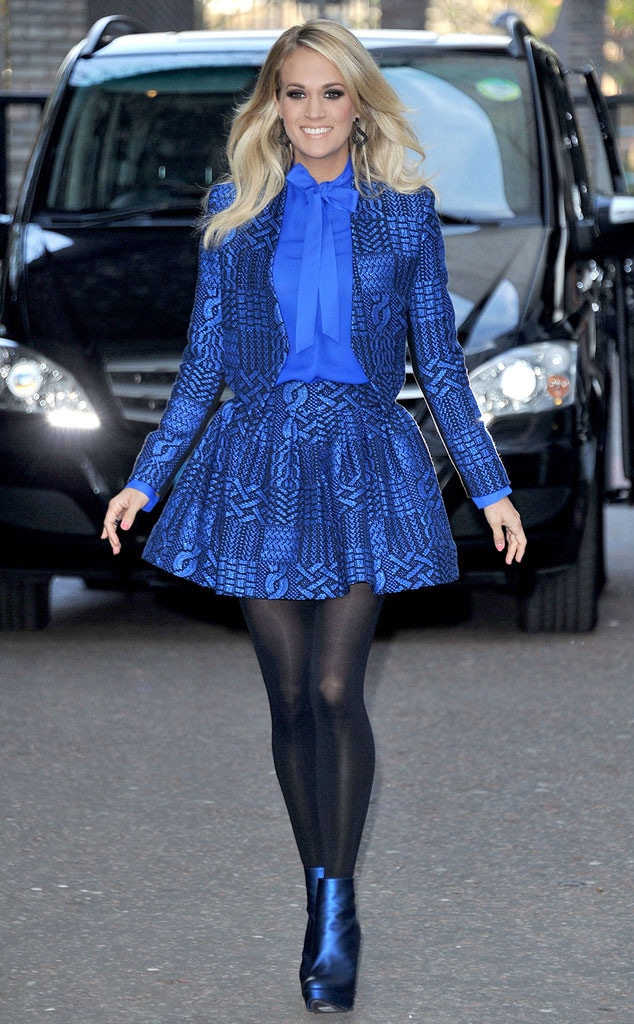 Xposure/AKM-GSI
Carrie Underwood doesn't really need much rehearsal time.
But there she was last night at the Microsoft Theater in downtown Los Angeles belting out her single "Heartbeat" not once, but four times in preparation for her performance during the American Music Awards. (The AMAs will broadcast tomorrow, Nov. 22 at 8 p.m. on ABC.)
The 32-year-old singer looked gorgeous in a simple pair of black tight jeans, boots, a t-shirt and a short leather jacket.
I sat down with her afterwards in the VIP Lounge to talk music, her five-year marriage to NHL star Mike Fisher, their nine-month-old baby Isaiah and, of course, Blake Shelton and Gwen Stefani.
MM: "Heartbeat" is such a great song. It's very romantic.
CU: It's a lot coming from me. I don't do romance very well, at least not in my music. But I felt like when we were writing it, it was just so genuine and I think that's one of my problems with love songs. It's all like fairy tales and bubblegum and butterflies. That's just not reality. I felt like as we were writing it, it was so conversational and this is my life. This is me and my husband just needing to be alone. It doesn't have to be all presents and Romeo and Juliet. It can be simple and lovely.
Jennifer Cooper, E! Entertainment
My husband and I got married almost two years ago. We're still so in the honeymoon phase. You've been married five years—still honeymooning?
No! [Laughs]. We have a kid. That went out the door with the poopy diapers. I think that's when the honeymoon phase, if it hasn't ended already, that's when it officially ends—when you have a child. We're still very much in love, a very deep love but it's just different. It morphs a bit.
Has Isaiah had any big firsts lately?
He is pulling himself up all over the place now. He's so mobile. In the hotel room, he's pulling up on everything. He's starting to make his way around the coffee table and stuff. He's stout. He's a stout kid. He's strong. It's really hard to change his diapers and get him dressed. He doesn't stay in one place.
Sounds like he could be another hockey player.
[Laughs] I don't know. He might be a wrestler because he's so squirmy. He's such a squirmy kid. He's just everywhere all the time. But he's so happy, too. He's such a happy baby. He's always smiling, always laughing.
Kevin Mazur/Getty Images for TIME
Jennifer Lopez is going to be making her hosting debut with the AMAs. You've hosted big awards shows before. Any advice for J.Lo?
Not that she needs my advice at all, but just have fun with it. It'll fly by and smile a lot. But she has lots of experience with doing American Idol judging she knows what to do. She'll be fine. She's got this.
When you and Brad Paisley hosted the CMA Awards, you poked fun at Blake and Miranda's breakup. Were you nervous about doing that?
Blake is such a good sport. For us, it was everyone is going to expect us to address this, how can we do it without really going there? We thought the whole Miss Piggy and Kermit thing was the perfect way to make a not cute situation cute. We wanted people to giggle and not leave anyone feeling bad. We were checking with parties along the way to make sure everybody knew what was happening.
So Miranda was OK with it, too?
Yeah, absolutely. We made sure everyone was.
Do you think Blake and Gwen Stefani make a good couple?
I have not seen them together yet. You just hope everybody's happy or will be happy.
You mentioned Jennifer Lopez judging American Idol. Are you sad about the show ending?
It's very bittersweet, for sure. I get it. This is the fifteenth season. For any television show to last that many years on TV is absolutely insane. So I understand, but it's bittersweet. It was meant for people like me, people that love music and wanted to be a part of it, but just didn't know how.
Have they already asked you about appearing on the final season? I mean, you have to.
I'm sure I will at some point. I definitely would like to be there for the finale. There's always a lot to work out. I'll be in the middle of touring, so we'll see. Fingers-crossed.
OK, so who does Carried Underwood still want to sing with?
I really want to sing with Axl Rose at some point in my life. I've covered enough Guns N' Roses stuff and it was people like him who taught me how to sing. They were so different. I look at people like him and Freddie Mercury, those people who were doing all these crazy runs. It was so different.
(Drake's "Hotline Bling" has become one of the hottest music videos to date. His dance moves are being imitated by actors, athletes and politicians. Tweet us your best "Hotline Bling" dance moves using the #ERedCarpetBling hashtag and watch Live From the Red Carpet: The 2015 American Music Awards on Sunday, Nov. 22, at 6 p.m. on E! to see some of the best submissions. Plus, tune in to Fashion Police's brand-new American Music Awards special on Monday at 8 p.m., only on E!)