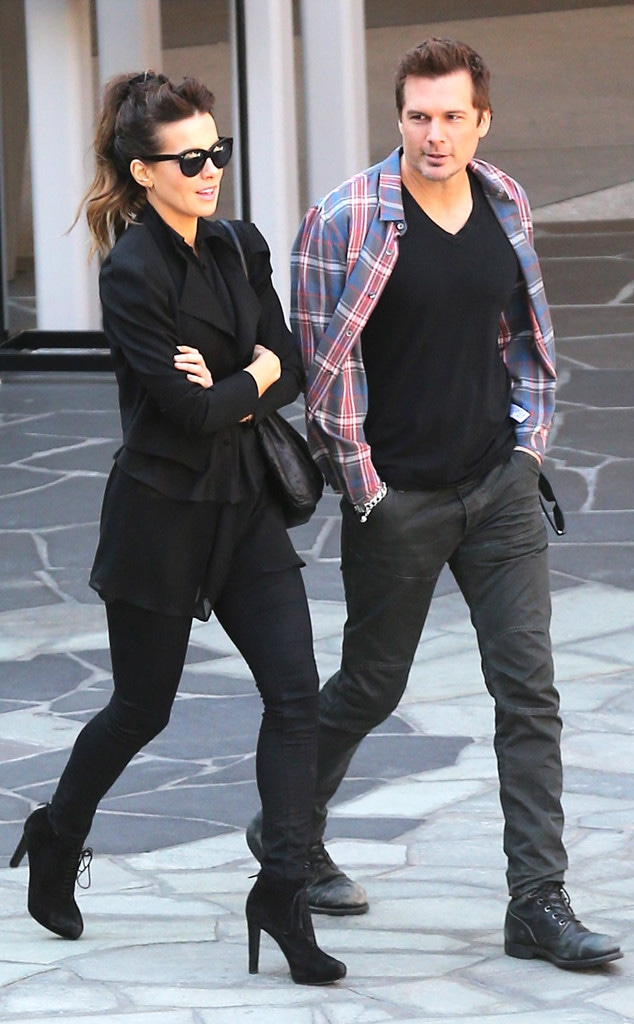 O. Duran/FAMEFLYNET PICTURES
Hindsight is 20/20 of course, but did Kate Beckinsale foresee her own split?
Or maybe not in so many words, but looking back it seems as if the Underworld star was for years taking a one-day-at-a-time approach to her marriage to filmmaker Len Wiseman.
E! News confirmed today that the couple have separated after 11 years of marriage, with a source saying that "they have not been together for a few months."
They looked very much a couple almost exactly a year ago at the 2014 American Music Awards, but sightings had become few and far between—and a month ago, neither Beckinsale nor Wiseman was wearing a wedding ring when spotted on separate occasions.
We hope that, whatever happens, these two are having an amicable time of it.
But this is also another sad split in a year that has seemed so packed with them (though there have been at least some new couplings to help balance the scales) and, judging by a few things Beckinsale has said in the past, maybe it shouldn't have been a surprise?
The British actress told Parade in March 2012 that her and Wiseman's collaboration on the Underworld franchise—he directed two of the three Underworld films she starred in, as well as the Total Recall remake—was particularly lovely because that meant they spent less time apart than a lot of couples in their line of work.
"We love it," she said gleefully.
Regarding the usual star-director spats made more complicated by being married, Beckinsale noted, "As far as any secrets I have to working together? I guess always argue over text so other people aren't embarrassed!" She joked around that time on The Tonight Show: "You'd be amazed how fast you can type 'douchebag.'"
A perfectly cute anecdote, no cause to ring the alarm there.
But then in July 2012, the brunette stunner, who's the mother of now-16-year-old daughter Lily with ex Michael Sheen, told Glamour U.K. that she was going "back and forth" on the idea of having a child with Wiseman. Which could have had nothing at all to do with the state of her marriage, but her answer seems to have implied otherwise.
"I feel very lucky in that we [she and Sheen] navigated a pretty bumpy situation and that Lily's OK," she told the publication. "So my resistance is along the lines of, 'Do I want to upset the apple cart?'"
She added: "There's absolutely part of me that goes, 'I'd love to have a baby in the relationship I'm in, and have that experience when the relationship's really good and exclusive,' but I'm just not sure."
That could be interpreted as Beckinsale saying that her relationship with Wiseman was great, unlike her previous relationship, but she just wasn't sure if she wanted to expand the fam. But it sounds more as if she was suggesting that she didn't want to risk having another kid when everything seemed good, as it did the last time, because...what if it didn't last?
Despite having been married for eight years at the time, it sounds as though she was doubting that the marriage would be great forever.
Not that it necessarily mean it's not going to work, but they did start off as tabloid darlings once upon a time.
Beckinsale and Wiseman met on the set of the first Underworld when they were both with other people, she with Sheen (she famously asked Wiseman to add Sheen to the cast) and the director was married to his first wife, a teacher. Both of those relationships ended in 2002, Wiseman and Beckinsale stepped out as a couple in January 2003 and were engaged by that June. They married in 2004.
"The popular notion of how Michael and I broke up—that we were on [the first Underworld] and I ran off with the director—is just not true," Beckinsale told Entertainment Weekly in January 2012. "If that were the case, I think it would be very difficult and peculiar to have an OK situation."
Sheen and Beckinsale, as co-parents, have remained close through the years—and Sheen and Wiseman seem to get along
"I mean, Michael and I were together for nearly ten years, and I can't imagine not having him in my life," Beckinsale told IGN in September 2003. "He lives close by in LA and we all get together sometimes and I'm very proud of that." Five years later, in 2008, she told Britain's OK!, "I'm very proud of both of them that they haven't let any potential awkwardness or strangeness affect our little family."
In March 2008, Beckinsale told Mean magazine when talking about being a single mom for a short time after the Sheen split: "Just culturally, we've made it very hard on mothers. Now we have to not only have careers, and perfectly meaningful relationships, and our body hair under control also, but the lion's share of the psychological well-being of the child is on the mother, too.
"With a few token husbands who are pitching in—which I do think is on the rise, I have to say…. I guess [men] just took time to catch up. That's what I'm raising my daughter to totally believe— that men are completely insignificant. But they are. We're special, and we're in a culture that doesn't recognize the specialness."
Sounds like a woman who's not afraid to go it alone.