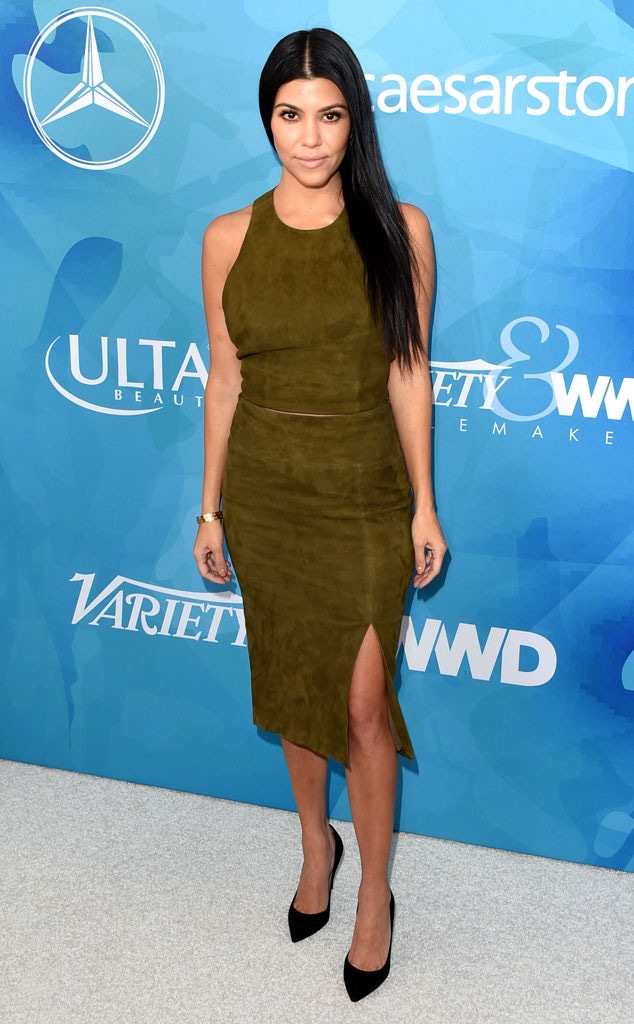 Jason Merritt/Getty Images
In case you weren't aware, Kourtney Kardashian is one hot mama.
The gorgeous E! star attended the Variety & Women's Wear Daily Inaugural Stylemakers luncheon at Smashbox Thursday morning looking stunning in an olive green two-piece outfit that flaunted her enviable figure. Kourt was joined by her glam squad, makeup artist Joyce Bonelli and hairstylist (who was also being honored at the event) Jen Atkin.
"I've been working out," the mother of three told E! News' Catt Sadler when complimented on her figure. "Today I didn't work out, but it makes me not feel anxious. Today I was in the shower and feeling anxious like, I needed to work out."
Watch:
Kourtney Kardashian Reveals Thanksgiving Plans
Kourtney also gave us an update on her sister Khloe Kardashian's health, after it was revealed that the 31-year-old Strong Looks Better Naked author was forced to reschedule a book signing, per doctor's orders.
"She's good," Kourtney tells us. "She's OK. She's not feeling well, but she's OK." A source told E! News yesterday that, "Khloe has experienced fever, fatigue, and swollen glands. She has an infection but hasn't been diagnosed yet," while another insider explained that the celeb "has an minor infection and is being treated by her doctors. She is run down as she has been burning the candle at both ends. She will be fine but needs some rest."
As for Kourtney's personal well-being after a highly publicized split from her longtime boyfriend and father of three kids, Scott Disick, the star agrees to being in good spirits but confesses that it "depends on the minute." Regardless, she tells us, "Everything happens for a reason."
Watch the clip to hear about Kourt's Thanksgiving plans, and don't forget to tune in to E! News tonight at 7 & 11 p.m. for more of our chat with the star! Also, don't miss a brand new episode of Keeping Up With the Kardashians this Sunday at 9/8c on E!