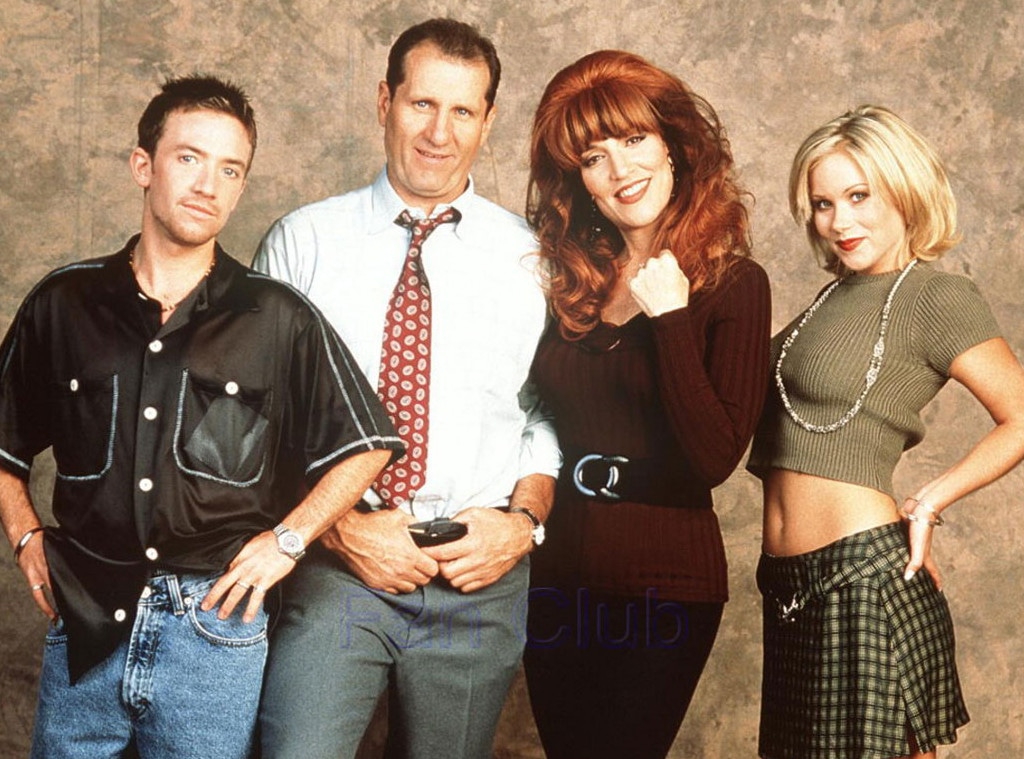 FOX
"Love and marriage, love and marriage/ go together like a horse and carriage"
When you hear that song, what do you immediately think of? Probably either your significant other, who still hasn't put a ring on it, or your thoughts go directly to a man named Al Bundy who loved to sit on the couch with his hand down his pants.
Married... With Children ran for 10 years and 11 seasons, and it was definitely part of '90s culture, so why don't we lump its legacy in with other iconic sitcoms of that era like Seinfeld, Friends and The Fresh Prince of Bel-Air? Perhaps because it starred a very dysfunctional married couple?
Well, it's Nostalgia Week here at E!, so we're celebrating Married... With Children by dropping some little-known facts about Al, Peggy, the kids and the minds behind this unconventional family show.
1. The shot of the cars on the interstate in the opening credits was pulled from 1983's National Lampoon's Vacation. If you look closely, you can see the Griswold's station wagon.
2. Married… With Children only became successful after a family activist started a letter writing campaign complaining about the show's subject matter and anti-family values. The story put the show in the media spotlight and turned it into a hit.
3. Seinfeld's Michael Richards auditioned for the role of Al Bundy. 
4. Actors Tina Caspary and Hunter Carson originally played Kelly and Bud Bundy in the pilot, but they were recast by the time the show went to air.
5. The working title for the show while it was first in production was Not the Cosbys.
6. Ed O'Neill was cast because during his audition, he only had to walk through the front door of the Bundy home. Before he walked in, he slumped his shoulders and sighed in defeat. That one acting choice won him the part.  
7. Married… With Children was Fox's first primetime show. 
8. Ed O'Neill is the only cast member to appear in all 260 episodes.
9. Ed O'Neill used to make birthday and holiday phone calls to fans in character, but in true Al Bundy nature, he only called them collect.
10. Sam Kinison and Roseanne Barr were first offered the roles of Al and Peggy Bundy.
11. Married… With Children is the longest running, scripted live-action show in Fox history.
12. Ed O'Neill has a black belt in Brazilian jujitsu. There's even footage of him in action on YouTube.
13. Ed O'Neill revealed after the show went off the air that he did not get along with Amanda Bearse, the actress who played Marcy.
14. Married… With Children was the longest running show without an Emmy until Baywatch ended in 2001, also without a single Emmy. 
15. Ed O'Neill found out about the show's cancellation while on vacation. He overheard a couple talking about the newspaper article announcing the end of the show. He bought them a meal to thank them for the information. 
16. At the end of the show's run, Ed O'Neill reportedly made more than $500,000 per episode, making him one of the highest-paid TV actors at the time. 
17. When Ed O'Neill got a star on the Hollywood Walk of Fame, it was placed in front of a shoe store.
18. Matt LeBlanc guest starred as Kelly's on-again, off-again boyfriend, Vinnie. He also went on to star in the failed Married… With Children spinoff Top of the Heap. 
19. Ed O'Neill wanted to end the show with the Bundy's winning the lottery and then a tornado coming along and wiping everything out during their celebration. 
Don't miss the final installment of E!'s Nostalgia Week with a look back at Married...With Children—including some amazing early interviews—tonight on E! News at 7 & 11 p.m.
Watch:
Get the Scoop on the Rumored "Married With Children" Spinoff