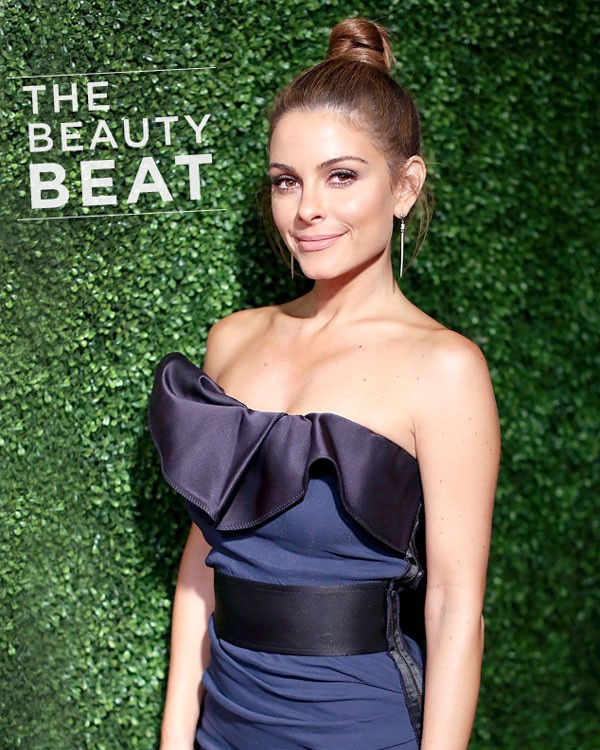 Gabriel Olsen/FilmMagic
Sure, Maria Menounos has the E! News glam squad behind her, but the veteran host has also got her finger on the latest beauty and style trends. With that knowledge comes a fierce understanding of the best products and industry tips. In this installment of The Beauty Beat, the TV personality shares her favorites, a.k.a. the products that work on or off camera.
What are your go-to makeup products?
Tinted moisturizer by Nurse Jamie, L'Oréal mascara, bronzer from NARS, blush from the Tom Ford Estée Lauder collection and Burt's Bees Lip Balm Tin 
What is your signature lip color?
"Dainty" by Anastasia Beverly Hills
Bronzer or blush?
Bronzer—better to have a glow, but I prefer both!
What is your best non-product related beauty tip?
One and done! Never ever use a towel more than once on your face. Buy a bunch of cheap washcloths for washing your face. Use the cloth one time and then let it hit the hamper! I can't express the importance of this enough.
What are your daily hair products?
Unite Moisture & Shine Luxury Cream and Unite U  Argan Oil
Any current product obsessions?
Dermalogica Skin Refining Masque
What product do you think is overrated/underrated?
Don't waste your money on designer polish. OPI is the best brand. 
What's your signature scent? What does it smell like and what does it remind you of?
"Daisy" by Marc Jacobs. I just love it. It's fresh and not over powering.