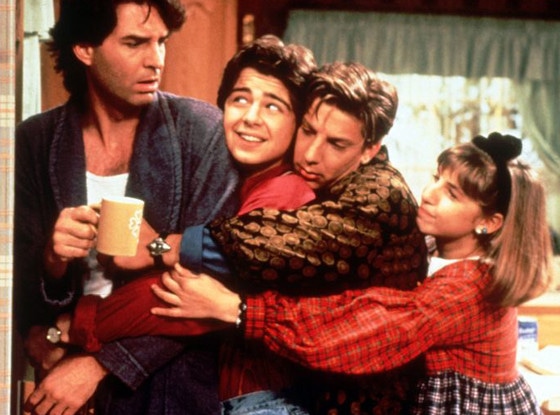 NBC/Buena Vista Television
Sometimes, sitcoms get real. And in the '90s, sitcoms aimed at young people got really real. We called them "very special" episodes, meaning they came with a message and often, a warning.
Blossom alone had several "very special" episodes that taught teenagers about marijuana, racism, bulimia and assault. Sometimes the storylines were sort of silly, so that kids could learn a lesson without too much drama. Other times, the storylines were dead serious and you had to follow up with your parents about what you just watched. Which we suppose was the point of those "very special" episodes.
Below is a comprehensive guide to most notable of Blossom's heavier episodes, in case you want to bank them in your DVR for when you have kids and want to teach them that make out parties are not mandatory!
By the by, do people still have make out parties? Get back to us on that one.
NBC/Buena Vista Television
Season 1, Episode 6: "Sex, Lies and Teenagers": Blossom lies to her father and sneaks off to a make out party. She spends the episode wracked with nerves over what's expected of her when she attends with her date, played by a baby Johnny Galecki.
Lesson: Don't do anything you don't want to do.
Season 3, Episode 6: "Kids": Tony has to tell Blossom that her boyfriend Vinnie is in a motorcycle accident. While he's in a coma in the hospital, she imagines what life would be like without him.
Lesson: Don't take your loved ones for granted.
Season 3, Episode 25, "Hunger": Blossom makes a new friend who is recovering from bulimia. Blossom then gets concerned that Six, recently obsessed with dieting, might be developing an eating disorder.
Lesson: Speak up if you are worried about your friends.
NBC/Buena Vista Television
Season 4, Episode 17: "Meat": When Tony and his new wife Shelly are out to dinner, a waiter makes a joke about "chocolate and vanilla." Tony loses it over his racist remark and gets in his face.
Lesson: There will always be someone who doesn't understand your life choices. Don't listen to them.
Season 4, Episode 9, ".38 Special": Blossom sees a gun in classmate Jimmy's locker and calls a tip line to report him. The school searches his locker, but finds nothing. He threatens Blossom for tattling on him. At the end of the episode, it is revealed that Jimmy died after an "accident with his gun."
Lesson: Never mess around when it comes to gun safety.
Season 4, Episode 23: "Blue Blossom": Shelly's cousin Robin visits and discovers that her cousin married a white man, which makes her furious. Blossom and Tony have a real deep talk about racism in America, and eventually Robin learns to accept Tony and Shelly's relationship.
Lesson: Tolerance is importance.
NBC/Buena Vista Television
Season 2, Episode 3: "The Joint": Nick finds a marijuana cigarette in the house and instantly blames Tony, but later discovers it was Blossom's all along. She wanted to experiment with Six.
Lesson: You should have an open talk with your kids/parents about drugs.
Season 5, Episode 10: "Oh Baby!": Shelly goes into labor and is rushed to the hospital. Before Tony can meet her, a patient he was treating in his ambulance holds him up at gunpoint. Shelly ends up giving birth in the car on the way there, with Blossom delivering the baby as Tony talks her through it.
Lesson: Babies are miracles? (We're not sure, this episode was cray).
NBC/Buena Vista Television
Season 2, Episode 7: "Intervention": Joey realizes his friend Frankie has a drinking problem. He's conflicted about speaking up about it and risk losing a friend. Eventually, Joey confronts his friend about being a drunk.
Lesson: Everyone needs a friend at some point.
Season 5, Episode 17, "The Date": Blossom is assaulted by her date, Josh, and after he apologizes, she isn't sure if she wants to report him. She's ashamed and blames herself. She eventually confesses to her dad that Josh hit her, and he tells her that what happened was not her fault.
Lesson: We'll let producer Alan Katz, who spoke to the Los Angeles Times about the episode when it first aired, take this one: "Nobody has the right to make you do what you don't want to do, and nobody has the right to hit you...basically, no means no. And that's an important message for all of us."
It's Nostalgia Week! Tune into E! News at 7 p.m. and 11 p.m. for more on Blossom—including some incredible first interviews with the cast!
Watch:
Mayim Bialik Wants a "Blossom" Reunion!