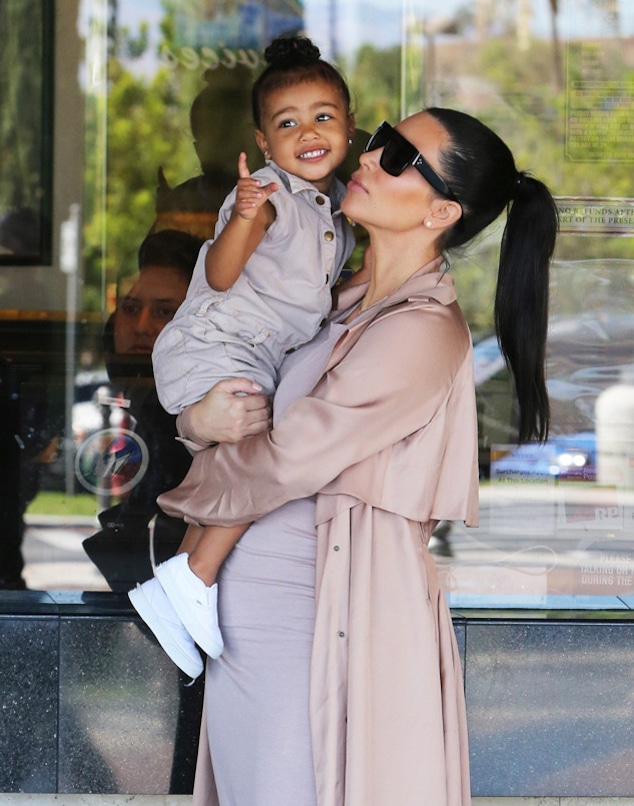 Dunkin D/WCP/FAMEFLYNET PICTURES - This photo was posted on parent's social media in accordance with E!'s No Kids Policy
North West is one excited big sister to-be!
With only one month of pregnancy to go, Kim Kardashian says her 2-year-old daughter is definitely anxious to meet her sibling. 
"We talk about baby brother all the time," the 35-year-old Keeping Up With the Kardashians star told E! News exclusively last week. "She's so sweet and yesterday she said, 'Mommy, can I give baby brother a kiss on your tummy?' and she kissed my stomach. She's super sweet. She has a hard time when I hold other babies but she's been getting a little bit better and I'm hoping that with her brother it's a whole new experience."
Courtesy Donato Sardella/Getty Images for CFDA/Vogue
Kim added that North is totally "sensing" the birth of her baby brother is very near.
"She always wants me to pick her up and be with her and it's really hard to do a lot of the lifting and stuff like that so that last month is not fun," Kanye West's other half admitted.
During our exclusive chat with Kim, the E! star revealed she hasn't picked a name for Nori's brother. "I don't have names, which is so crazy," she said. "We just started talking about it and that was the last thing for us last time. So I feel confident obviously that we'll figure it out."
Watch:
Kim Kardashian Is Proud of Khloe's Sexy Photo Shoot
Kim also got candid about her pregnancy complications. "Every medical issue that you could probably have I feel like I get and I worry so much about it," Kim said. "This pregnancy I have a little bit more anxiety just because I know what's to come and it's really inevitable some of the issues that I'm going to have. You know, I have a high-risk delivery and all of that gives me such anxiety."
Watch Keeping Up With the Kardashians Sunday at 9 p.m., only on E!