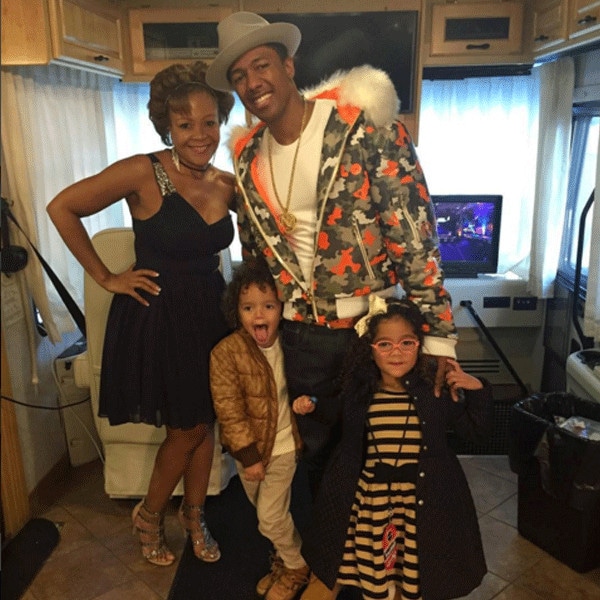 Dem babies are ready to drop some beats!
Saturday night was a special evening for Nick Cannon as he helped host his annual Nickelodeon HALO Awards. But before honoring ordinary kids doing extraordinary things in their communities, the America's Got Talent host made sure his family had a great time. 
Cannon started the gig by stepping out onto the red carpet with his mom Beth Gardner. Soon after, the duo met up with the twins for a true Hollywood experience.
"DJ Roc&Roe on the 1's and 2's #Ncredible #CannonParty," Cannon shared on Instagram as Monroe and Moroccan posed next to the DJ booth. "I think he's ready... Roc just asked for his first set of turntables! #Ncredible #DJ."
When posing for photos, Moroccan couldn't help but share his excitement by sticking out his tongue for the camera. Flashback to Miley Cyrus, anyone?
Fifth Harmony, DNCE with Joe Jonas and Tori Kelly were also on-hand to perform at the show scheduled to air Nov. 29 at 7 p.m. on Nickelodeon.
Earlier this year, Cannon spoke to E! News about how his kids are growing up right before his eyes. Instead of sharing a bedroom like years past, the twins are now ready to spread their wings with their own space.
"Dem kids, dem damn kids," he joked this past summer. "I'm loving their independence. Up until this point, they've kind of shared rooms and now they're kind of individuals. It's watching that individuality come out. It's really cool."
While the twins no doubt had a great time at the event, the cute kids also got to spend some quality time with mommy over the weekend.
On Sunday afternoon, Mariah Carey shared a candid photo of the kids giving mommy a big kiss. "Pure love," she wrote on social media during her afternoon out.