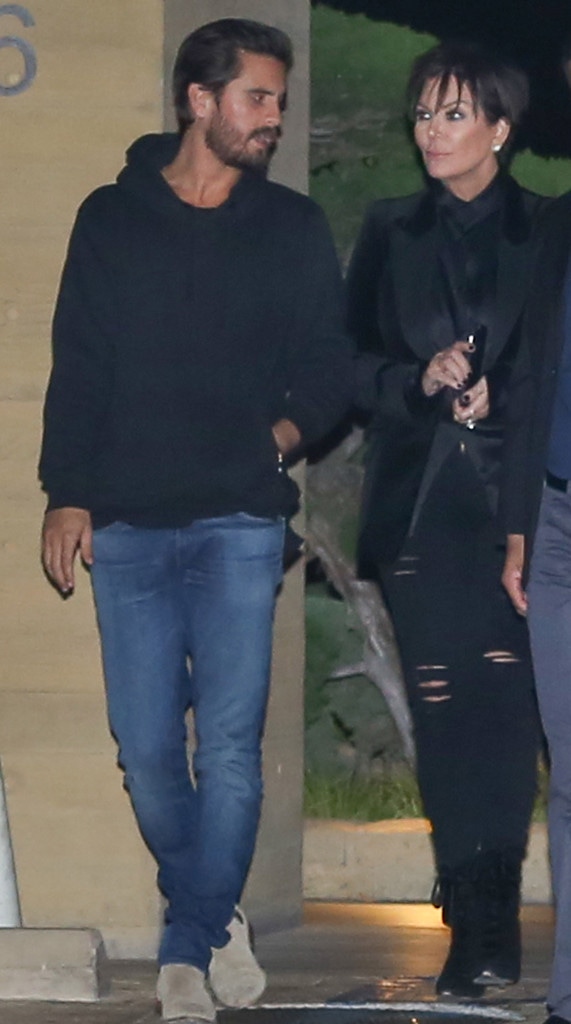 Maciel/NGRE/AKM-GSI
You needn't be confused by Scott Disick's recent return to public life: He is still being treated at a rehab center. He just doesn't have to remain there 24/7.
The reality star was photographed with Kris Jenner on Thursday in Malibu and was also spotted in a car in Beverly Hills that day. He and Jenner had dinner at the Japanese restaurant Nobu, E! News has learned.
Disick sparked much curiosity among fans when he returned to Instagram this week after a month-long hiatus, posting a photo showing him boarding a private jet, an ocean pic taken a few miles inland, a shot of a car stereo playing The Weeknd's "Beauty Behind the Madness"and a still of Brad Pitt and Angelina Jolie in the 2005 film Mr. and Mrs. Smith, captioned, "Feelin some type of way."
"Scott is still in a rehab program and has been able to come and go as part of the recovery process," a source told E! News exclusively. 
Disick checked into a treatment facility in Malibu in October and has not commented about his health. Another source told E! News the reality star wants to remain at the center longer than he initially planned.
This marks his fourth rehab stint. His struggles with drugs and alcohol addiction have been documented on Keeping Up With the Kardashians.
Earlier this week, a source told E! News Disick was "doing really well."
"He sounds happy, clean and clearheaded," the source said. "I think he took it really seriously this time. He took a real break from work and partying to focus on himself. He hasn't sounded this good in ages. He says he's feeling great."
Watch the season 11 premiere of Keeping Up With the Kardashians this Sunday, Nov 15. at 9/8c on E!