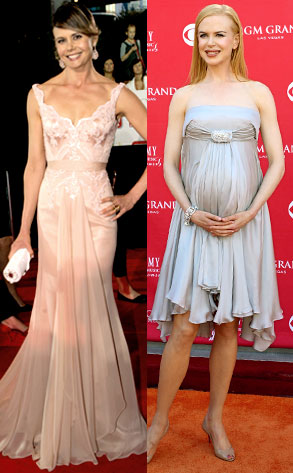 Serge Thomann/Getty Images; Frederick M. Brown/Getty Images
Back in July, we let fly an odd item regarding rumors of a then-pregged Nicole Kidman wearing a fake bump, with li'l Sunday Rose being conceived someplace else. Possibly through a surrogate, or Nic's waify-lookin' bun in the oven helped by sis Antonia's eggs. No comment from Nicole. Baby Urban was born soon after, and we dropped the possibly bogus baby-bump buzz in favor of wanting a response about N.K.'s bloody bodyguard sitch instead.
A.T.'s own Becky Bain, though, was Down Undah just last week, and whispers of this conception controversy were more like screeches—Kidman's local posse loudly dished to us their doubts about the mommy status of the star, insisting to us that Antonia Kidman was Sunday's surrogate all along.