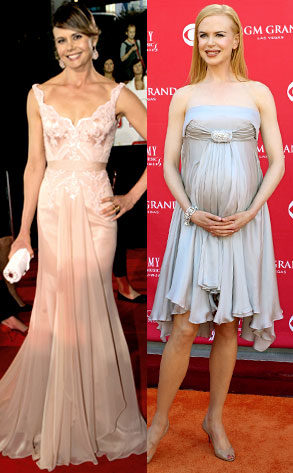 Serge Thomann/Getty Images; Frederick M. Brown/Getty Images
Back in July, we let fly an odd item regarding rumors of a then-pregged Nicole Kidman wearing a fake bump, with li'l Sunday Rose being conceived someplace else. Possibly through a surrogate, or Nic's waify-lookin' bun in the oven helped by sis Antonia's eggs. No comment from Nicole. Baby Urban was born soon after, and we dropped the possibly bogus baby-bump buzz in favor of wanting a response about N.K.'s bloody bodyguard sitch instead.
A.T.'s own Becky Bain, though, was Down Undah just last week, and whispers of this conception controversy were more like screeches—Kidman's local posse loudly dished to us their doubts about the mommy status of the star, insisting to us that Antonia Kidman was Sunday's surrogate all along.
A.K.'s the host of an Aussie boob-tube program called From Here to Maternity—perf title, no?—and totally gossipy word was that Ant allegedly took some time off the show for an unexplained reason. We put word into the show's reps about it; they snipped back: "The whole shoot went very smoothly and 100 percent according to the schedule." And when was this sched? "The show was filmed in the second half of last year." So, the show wrapped with enough time for A.K. to have possibly taken on other unpublicized endeavors?
We did our own sleuthing and found out that back in May, when Nic was showing off her finally full belly at the CMA Awards in Nashville, Antonia was back in Oz looking as skinny as ever. Is a flat stomach enough to take the heat of Nic's sis? Then why are we hearing so much saying otherwise?
You can't blame us for being so utterly dubious of the whole Kidman clan's doings. This is a woman who spent a decade learning tricks of the trade from Tom Cruise, whose own biologically conceived child's birth was engulfed in just as much mystery. Even if Nicky's put her ex-hubby and his suspicious ways behind her, we haven't, and neither has anyone else. Get used to it, Kid, onlookers doubting your every move ain't going away.
—Additional reporting by Becky Bain