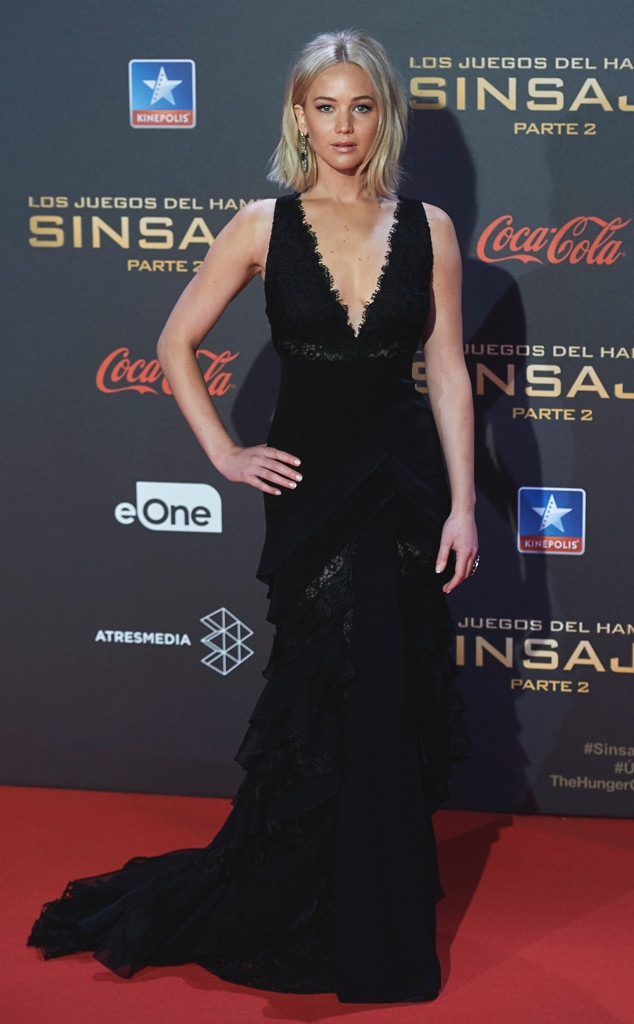 Carlos Alvarez/Getty Images
Jennifer Lawrence is opening up in a way we haven't really seen before.
The 25-year-old actress sat down with Diane Sawyer to chat about the last installment of the Hunger Games franchises and how the combination of that following shortly after her breakup from her boyfriend of five years, Nicholas Hoult, really forced her to look at herself.
"These movies had been my life for so long and they had to come first in everything," she told Sawyer. "I was also in a relationship with somebody for five years and that was my life. So my life was this person and these movies and we broke up around the same time that I wrapped those movies."
She continues, "Being 24 was this whole year of, 'Who am I without these movies? Who am I without this man?'"
After a year of moving forward from that relationship and seeing other people—she was connected to Chris Martins for a period of time—J.Law isn't quite sure if she can picture herself getting married.
"I don't know if I ever will get married and I'm OK with that," she candidly reveals. "I don't feel that I need anything to complete me. I love meeting people, men, women, whatever, I love people coming into your life and bringing something."
She does, however, hope to be a mother someday.  "I don't really plan on getting married. [But] I definitely want to be a mother. I don't really imagine getting married anymore."
Carlos Alvarez/Getty Images
Meanwhile, Lawrence also addressed her much-talked about op-ed surrounding the gender wage gap after she discovered that both she and her American Hustle co-star Amy Adams were paid less than the males in the film.
"My question to myself was why am I not asking for it?" Lawrence told Sawyer. "And I think I know I have always kind of carried a habit of submissiveness with the idea that it makes me more likeable."
She continues, "I felt like I had had to say something because we need to talk about it. On average women are paid 21 percent less than men... We can ask for the same exact thing that men do and we do face the reality that we do get judged more. IT's just something that is intrinsic, and I would love to see change."
You can watch Sawyer's full interview with Lawrence tonight on "Nightline."
Watch:
Why Dakota Johnson Calls Jennifer Lawrence "Bold"