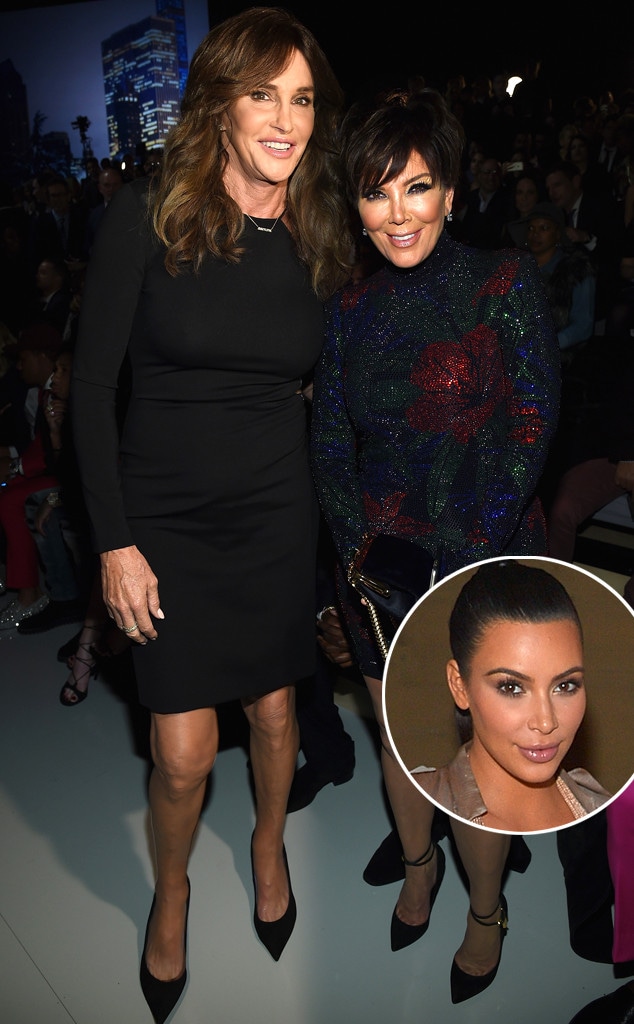 Dimitrios Kambouris/Getty Images for Victoria's Secret
We're happy to report that Kris Jenner and Caitlyn Jenner's relationship is stronger than ever!
Earlier this week, the friendly exes were all smiles while sitting front row together at the Victoria's Secret Fashion Show to watch their daughter Kendall Jenner walk the runway. And now, Kim Kardashian is giving us an update on how Kris and Caitlyn are growing closer after Cait's transition.
"I think for anyone that goes through this, it's not the most common thing so I don't think a lot of people can really understand it," the 35-year-old told E! News exclusively yesterday while promoting this Sunday's season 11 premiere of Keeping Up With the Kardashians. "It's been an adjustment and it takes time and that's OK. That's normal."
Watch:
Caitlyn and Kris Jenner Take a Sweet Selfie
Kim continued, "They're in such a great place now and our family is like totally coming back together, but I do respect that adjustment process and having to just adjust to a different lifestyle. It's our new normal and everyone is doing such a great job, we communicate really well. I think the whole family does and we're really vocal so I think that really helps. We all know family is everything to us it's always been our No. 1 priority and I think that that will always remain our No. 1 priority and I think if we stick with that, obviously there can be adjustment periods and people will have to get used to things, but we just become stronger from that." 
Frederick M. Brown/Getty Images
On last season of I Am Cait and Keeping Up With the Kardashians, fans got to see Kris and Caitlyn work out their issues during a dramatic sit-down talk. In the end, they made up and even snapped a smoochy selfie together!
Kim says she's also looking forward to Cait's first Thanksgiving and Christmas. "We haven't really talked about it [but] I'm sure Thanksgiving we'll all have it at one of our houses and then the holidays, we have our Christmas Eve party like usual," she said. "We'll always be together."
Watch the season 11 premiere of Keeping Up With the Kardashians this Sunday, Nov. 15 at 9 p.m., only on E!