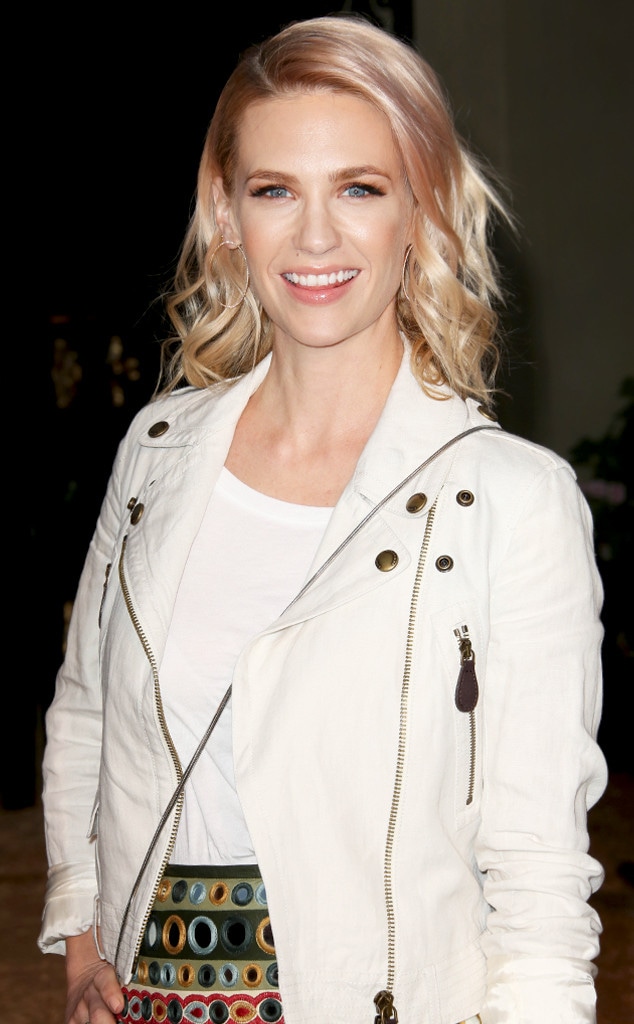 Matt Baron/BEI/REX Shutterstock
While most of us have spent a large part of the summer contemplating the lob, there's something about cooler weather (and the impending Victoria's Secret Fashion Show, perhaps) that makes longer locks feel much more seasonally appropriate.
If your hair is on the shorter side and you're dedicated to growing it out, or if your hair won't seem budge past that mid-point length no matter how hard you try to grow it out, it's likely frayed and just plain dehydrated. Getting your hair in shape this season is all about replenishing moisture and keeping ends healthy. For luscious locks like January Jones and Anne Hathaway's, celeb hairstylist Long Nguyen shares his tips for how stars keep their growing strands sexy and breakage-free. (Hint: It's easier than you think.)
Hair Can Only Grow so Fast: If you've decided to naturally grow your hair out, one thing you must have is patience. "Average hair growth is half an inch to an inch in a month," revealed Long. So even if you are doing everything in your power to keep your strands undamaged, you'll need to be real with yourself that you won't be seeing a major difference overnight.
Split Ends Are the Enemy: Healthy hair is step number one, and that means avoiding split ends at all costs. "Once a split hair occurs the hair will stop growing," said Long. To stop ravaged ends before they even have a chance to start, Long suggested being diligent about booking a trim with your stylist every 10 to 12 weeks.
Know What to Ask for in a Trim: When you're in the chair, make it crystal clear to you stylist that your intention is to keep as much length as possible. If you are booking regular appointments and if your ends are only slightly frayed, you can ask to "just dust the ends." Dusting is a length-saving technique that takes off even less than a trim would. If you're overdue for an appointment, you can expect to trim off at least an inch of split ends, which will, of course, impede grow-out. 
Stick With Your Stylist: Most of us have stylists that we trust and return to on a regular basis, but especially while you are growing your hair out, it is imperative that you stay loyal. "You never know who is cut-happy," warned Long. In other words, now is not the time to try anything new.
Invest in a Weekly Hair Mask: As the pro mentioned, keeping hair healthy is key to getting it to grow. This means that in addition to avoiding breakage you must also work to keep hair constantly hydrated. "If your hair is damaged, deep condition often," said the professional. While the majority of us likely have damaged hair from harsh dye jobs and heat styling, a once-weekly hair mask is essential for revival. Long recommended a hot oil treatment for coarse hair and a deep conditioning mask for those with a finer texture.
Shampoo Is Not as Necessary as You Think: Bet you didn't know that there's such a thing as too much shampoo. A lot of volumizing and clarifying shampoos actually strip your hair of natural oils that prime your hair for growth. The fix? "Use shampoo every other time and scrub with warm water in between," recommended Long. When it comes to conditioner, you are good to use that every time you shower for a guaranteed surge of moisture.
Take a Break From Heat Styling: Okay, we're going to warn you, this one is by far the most difficult to practice. We don't know about you, but we're almost-daily blasting our strands with some kind of heat. For healthy hair sake, the pro recommended cutting back on flat iron and curling iron usage as much as possible, saving heat styling for special occasions (re: upcoming holiday parties). If you're looking for a chic, heat-free style, try this slept-in wave that requires nothing but sleep.