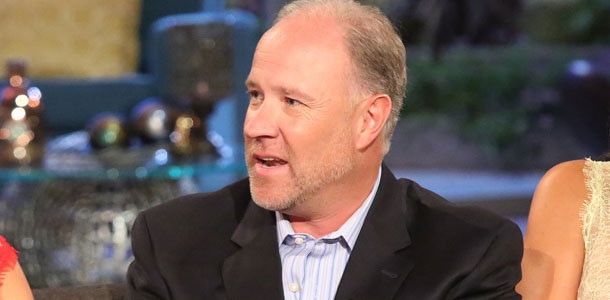 Evans Vestal Ward/Bravo/NBCU Photo Bank via Getty Images
Looks like Brooks Ayers may have been duping all of us.
A representative for City of Hope medical center reveals to E! News exclusively that the Real Housewives of Orange County star was never treated for cancer at their facility. Ayers' representative has declined to comment.
In a sit-down interview with E! News' Melanie Bromley last week, Ayers came prepared to shut down any doubters about his cancer diagnosis, going as far as presenting documents printed with the "City of Hope" logo to prove he was receiving treatments for the disease at their facility.
"These are the three bills that reference the days I got my treatment," he explained to E!, sharing a document that stated how one chemo treatment cost $33,000. "I'm not going to say I'm in remission. That's not going to be the case until my numbers have normalized and that's the word that was used to me."
He continued, "I have more tests coming up in two months. I go back every 90 days. I don't get a scan every 90 days but I get blood work done every 90 days."
However, the hospital representative confirms they have never treated anyone by the name of "David Brooks Ayers" at their facilities.
In fact, last week an E! News investigation also revealed some inconsistencies within those same documents he presented, and the City of Hope logo was the first major red flag.
In Ayers' invoice, dated Jan. 22, 2015, the City of Hope National Medical Center logo has a small trademark symbol—something a person would find if they did an image search for "City of Hope logo." On another patient's documents, by contrast, no such trademark symbol appears.
Furthermore, on the other patient's invoice from City of Hope National Medical Center, its address appears as "1500 E. Duarte Road, Duarte, California 91010." In Ayers' provided document, the word "east" is abbreviated and the center's address appears as "1500 East Duarte Road, Duarte CA 91010."
Another red flag is that Ayers' document includes an "Invoice #" of eight digits, while the other patient's document does not. Instead, it has an eight-digit "Medical Record Number."
Finally, while Ayers provided us with his medical invoice, which he claims was accessible through the patient portal, a source tells us that invoices and bills are actually not available to patients online.
The document inconsistencies aside, many of the women on Real Housewives questioned whether or not Brooks was being truthful about his diagnosis—something that was further questioned by fans after he broke up with Vicki Gunvalson last season.
Ayers attempted to answer some of the most perplexing questions that Bravo viewers had during our interview with him last week.
"Absolutely I'm sticking by that," Ayers shared with us when confirming his cancer battle. "Unfortunately, I wish it wasn't true. It would be a lot easier if I didn't have cancer just to be honest with you. The daily grind, the routines of reminding yourself that I'm sick and I need to do certain things and not do certain things."
RHOC stars such as Meghan King Edmonds still weren't buying it, with Edmonds telling E! News exclusively after Brooks' interview aired, "To accuse someone of faking cancer is a huge accusation that you should never take lightly, but I felt that way and that's why I said it and that's what started it. To see the other woman now say, 'Yeah, you're right, it doesn't add up. It doesn't make sense. This is a lie,' it feels good because I'm not crazy. I have seen evidence and the evidence points to a lie."
And she's not alone. Co-stars Heather Dubrow, Tamra Judge and Shannon Beador have also gone public with their beliefs that the whole thing is a lie. Bravo, meanwhile, had no comment on the hospital's revelation.
(E! and Bravo are both part of the NBCUniversal family.)
For more on our investigation into Brooks Ayers' cancer scandal, make sure to tune into E! News tonight at 7 and 11 p.m.
—Reporting by Baker Machado