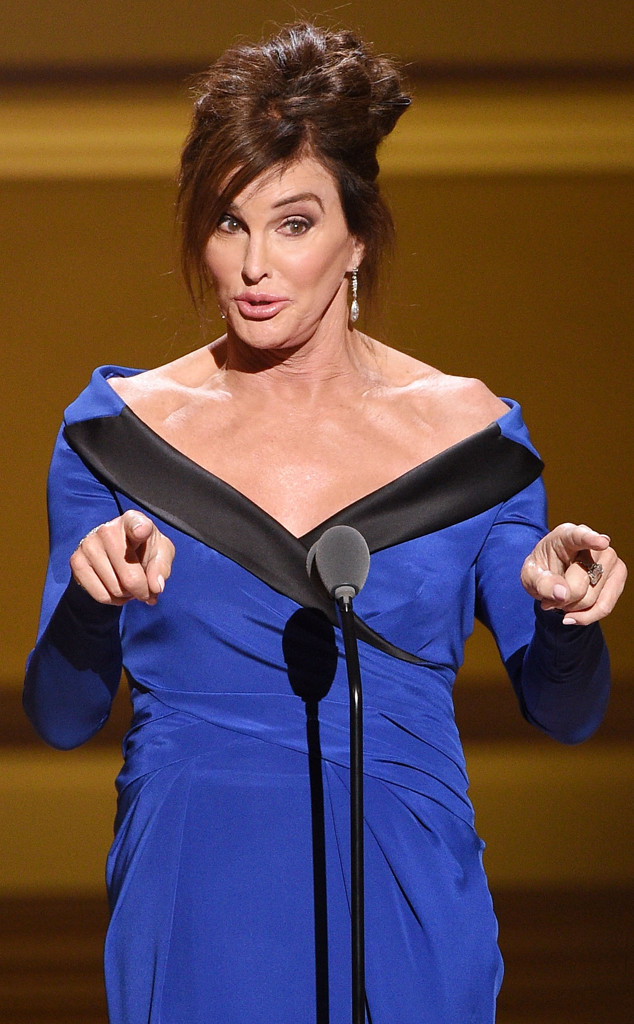 Larry Busacca/Getty Images for Glamour
It was a big night for Caitlyn Jenner.
The celeb has had quite the year, and tonight, she was being honored with the top nod of Woman of the Year for Glamour magazine's 2015 Women of the Year awards. Wearing a stunning, custom midnight blue Moschino gown that flaunted her figure, an emotional Caitlyn took the stage to share some inspiring and personal words about her journey.
Actress Judith Light presented Jenner with the prestigious award, a woman who Caitlyn says has been "such a supporter of our community. You have done so many things for so many gender non-conforming people. Having you present this to me tonight means so much to me and our community."
Jenner continued by telling the audience that "when it comes to gender, everyone in this room is on a journey. We are constantly learning and growing as human beings learning about ourselves, but there is a second part of this population when it comes to gender. There is massive confusion deep down inside."
Recalling her long transition, Jenner explained that she spent many nights wondering what she should do about her life, and confessing that she spent a lot of time isolating herself and lying to the world. But finally, a time came when she had to open up to those who mean the most—her kids.
"So I sat down with each one of my ten children and it was the big secret in the family that no one could talk about because I was getting destroyed in the tabloids every week, walking through the grocery line looking at the headlines and so were my children and it was hurtful. So I sat each of them down and said, this is my story. This is who I am."
Caitlyn added that she also had conversations with God, and ultimately came to the conclusion that maybe being her authentic life is her purpose on this Earth, so she could make a difference in the world. "What a great opportunity in life to have, so few of us ever get the opportunity," she said.
And then, the 66-year-old revealed one of the biggest personal milestones she recently achieved.
"Over the last six months, it has been the most eye-opening experience of my life. For years and years, I never felt like I fit in anywhere. I always felt as an outsider. I never felt good on the male side and I wasn't obviously on the female side. I was kind of stuck in the middle, but all of a sudden, after making this decision and coming out, it was by far the best thing I ever did, because for so many years, I lost my enthusiasm for life. I literally would be standing in my house for almost six years because I never wanted to come out, just to go to work, that's about it. Now, actually, I like going out and I like being myself.
"To Glamour magazine, I got to tell you a story quickly. I haven't been on the airlines for over a year. Why? Because I haven't had an authentic ID. Finally, last week I got my driver's license and gender marker F. It's always the little things in life. I am sitting on the plane for the first time reading Glamour magazine and not having to fold over the cover so no one can see what I was actually reading, and I had it opened up beautifully and just reading through Glamour magazine was absolutely great. So thank you, Glamour magazine for honoring me tonight. I never in a million years thought I'd be here and I am sure you didn't either."
Caitlyn's daughter, Kylie Jenner, was in the audience to support, despite having suffered a wardrobe malfunction. "Had some major wardrobe malfunctions but that couldn't stop me from supporting the ones I love," Jenner wrote on Instagram. "You're amazing @caitlynjenner congrats on being woman of the year for @glamourmag."
Congratulations, Caitlyn!