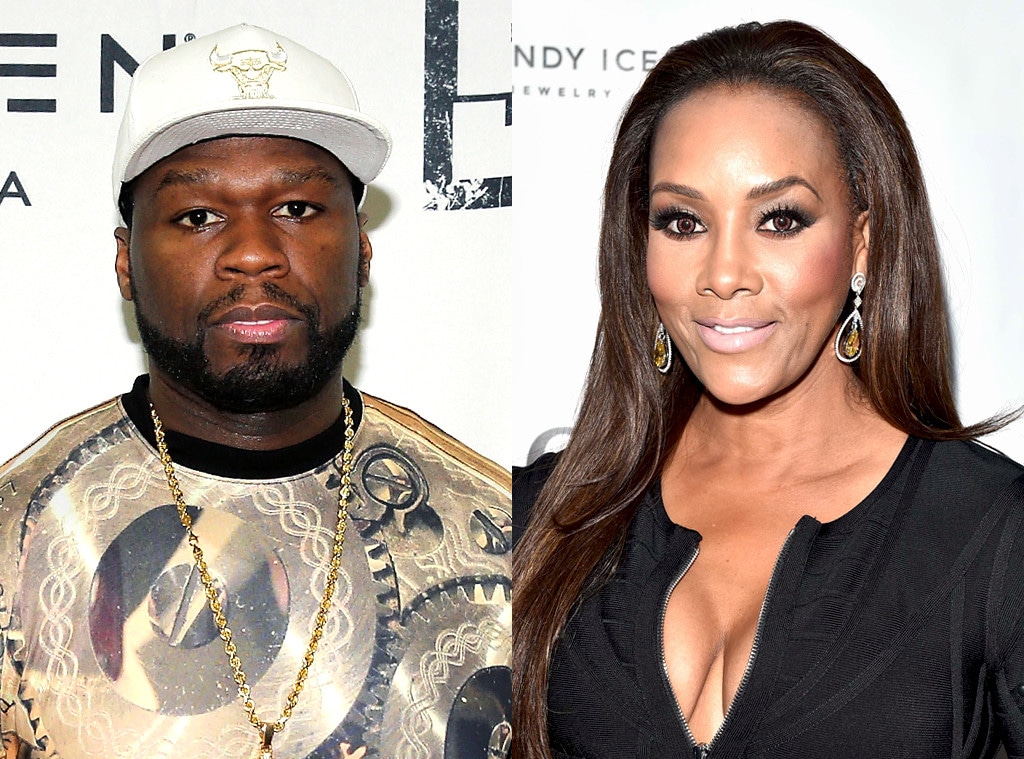 George Pimentel/WireImage/Shareif Ziyadat/Getty Images
50 Cent isn't letting Vivica A. Fox's words go.
The Independence Day actress appeared on Watch What Happens Live Sunday night and said that the rapper wasn't gay, but there were certain incidents that raised flags for her, including his Vibe cover with Soulja Boy.
"What were your thoughts when 50 Cent blamed the season ratings dip on 'gay stuff?'" Andy asked Vivica.
"First of all, you know the pot called the kettle black is all I'm saying," Vivica responded.
When Andy asked if 50 Cent could be gay, Vivica said "he's not," but not before adding, "We had a great time. He just seems like he's got something that's not quite clear."
Soon after both the "In Da Club" rapper and Soulja Boy responded on Instagram, posting unflattering photos and memes to mock the actress. As of Monday morning, 50 Cent hasn't stopped. One of the pictures the rapper-actor posted showed Vivica in a low-cut dress with the words "really bad boob job!" written over the picture.
"bitch remember when you told me f--k Halle Berry and you could have played all the roles she did better then her? And I just looked at you like what the f--k kind s--t did you take? LMAO," he wrote alongside the photo.
He also shared another unflattering photo, but this time it was an up-close shot. "No comment necessary," he wrote.
50 Cent also shared a meme of two little kids discussing whether or not a woman's butt is fake or real. "Why she say that about 50?" he began his caption, in reference to her allegedly "licking" his butt. "Hollywood Bruh these hoe's be crazy."
The feud seems to be a result of the rapper allegedly not supporting Empire because of its "gay" plots. Those rumors began back in October when the rapper shared (then deleted) a page called @industryonblast_ that said the Fox show's ratings fell because of too many celebrity cameos and "gay" plots.
A rep for 50 Cent later addressed the Instagram posting and clarified that he later realized there was content on the site that he didn't agree with, hence why he removed the post.