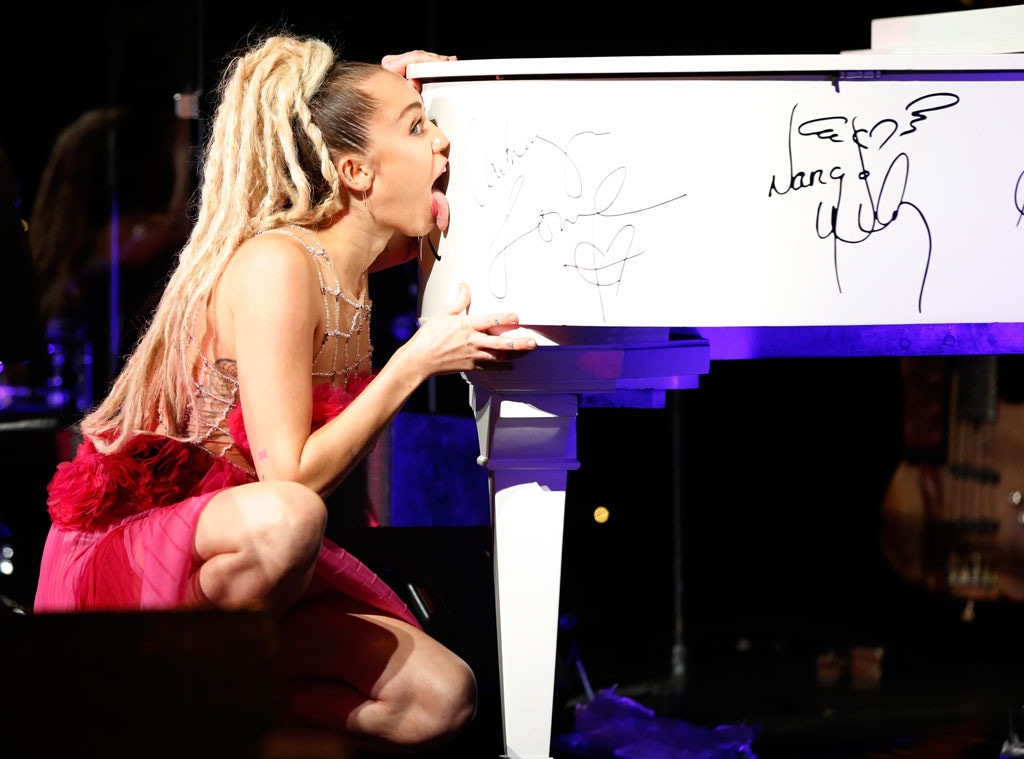 Joe Scarnici/Getty Images for Los Angeles LGBT Center
Musician Linda Perry wanted some help auctioning off a piano last night at the Los Angeles LGBT Center's Vanguard Awards gala.
Miley Cyrus not only accepted her offer to join her on the stage, but the "Wrecking Ball" singer enticed bidders by licking the piano. Yes, she licked a piano for charity
The winning bidder took home the white piano that was donated to the center by Orange is the New Black star Ruby Rose for $50,000.
Later in the evening, Cyrus was presented with the Vanguard Award by Center staffers and members of her Happy Hippy Foundation.
"I want all of you to know that I feel beyond grateful to be in a room full of so many…people who care so much about others because unfortunately that is way too rare in the world that we live in today," Cyrus said. "I'm thinking of tonight not as celebrating what we've already done but what we're doing and what we're going to do in the future."
#MileyCyrus' speech tonight at the #vanguardawards. She's pretty awesome.

Posted by Marc Malkin on Sunday, November 8, 2015
Cyrus also presented some cold hard facts about disenfranchised LGBTQ youth. (The Q standings for "questioning.")
"There are more than 1.6 million runaway or homeless young people in the U.S. each year with 40 percent of homeless youth identifying as LGBTQ," she said. "And in just Hollywood where we are all sitting, royally with all of our food in front of us and all of these fancy ass clothes…something didn't' really feel quite right about it when we're in a city where there are more than 6,100 homeless people under the age of 24 on the streets on any given day and more than one in four of these people have experienced hate crimes due to their race, sexual orientation or their gender identity."
Matt Winkelmeyer/Getty Images
Cyrus recalled the first day she visited the LGBT Center. "Given the opportunity to sit in on one of the support groups, I walked away with the feeling of self love that I had never been able to give myself before," she said, adding, "The LGBT Center had the key to the lock on my cage and they set me free and I want to continue to do the same for others."
Also honored was Jane Fonda, who received her award from her Grace And Frankie co-star Lily Tomlin.
"As I see it, trans women are the frontline warriors in the battle against patriarchy," Fonda said. "Because you better believe that any person who gives up penis privilege voluntarily is going to be a threat to the patriarchy."
Screenwriter Ron Nyswaner was also given an award from his longtime friend Frances McDormand. Perry, as well as Glee's Alex Newell, performed for the crowd of about 1,200 attendees at the Hyatt Regency Plaza Hotel.
For more information about the LGBT Center, go to lalgbtcenter.org.
Miley Cyrus loves giving back. Check her out in the video below at this year's ALS Walk in L.A.
Watch:
Celebs Show Support at ALS Fundraiser