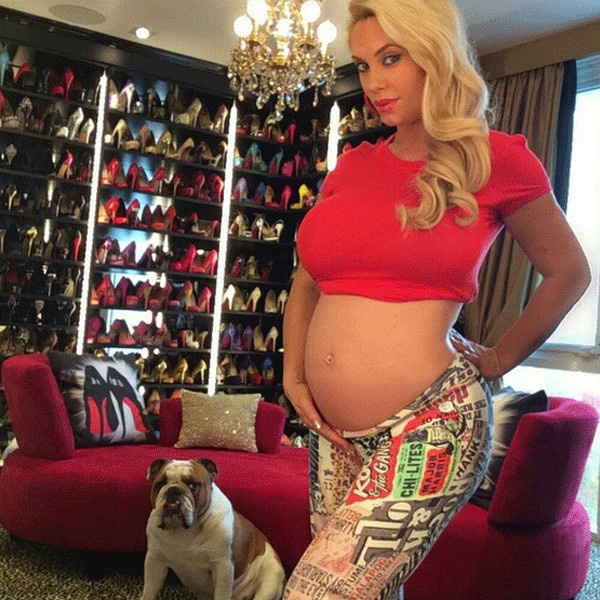 Instagram
Introducing our newest celebrity blogger, Coco!
The talk-show host, fitness enthusiast and reality star is gearing up to welcome her first child with husband Ice-T. Lucky for us, she's documenting her journey to motherhood in several blog posts exclusively for E! News.
As she prepares for the birth of her baby girl named Chanel, take a look at how the Ice & Coco star is preparing for her growing family.
I almost feel like I kind of got gypped a little because women start seeing something of a baby bump at four to five months. I didn't see anything until eight months. I was kinda feeling gypped in a way because when you're pregnant, you want a bump.
I know I'm in great shape, but I want to feel pregnant also. Finally, something is out! She's finally showing herself and I'm loving every moment. I'm actually telling people that no doubt, I could be pregnant for the rest of my life.
The Paley Center for Media
I've been a model for my entire life and so concerned about fitness and all that good stuff but I could care less about my body, honestly. I could care less about my waist and the way I look. I just happen to be so healthy where pregnancy is really working well with my body. I love being pregnant through everything. Through feeling her inside me to going through the adjustments, I love every minute of it.
In response to the critics of my small baby bump, the thing is I constantly ask my doctor, 'Am I healthy? Is the baby healthy? What is going on? Have you seen this before?' My doctor says yes, athletes look like this all the time because they have such strong abs muscles that it takes longer for a bump to pop out.
My doctors said they just delivered a figure skater's baby and she was smaller than me and she squeezed that baby out in nearly three tries because her abs were so strong. Strong abs muscles may mean you're going to have an easier delivery. When I heard that, I was like let's cross our fingers that that happens to me.
Rob Kim/Getty Images for WE tv
My doctor said there is no need to worry. I'm constantly in my doctor's office every week asking 'Is everything okay?' As long as my doctor is saying everything is okay, I'm not going to go by strangers who don't have the education of my doctor.
I'm trying to always prove a point to those people who are doubting me. I'm not going to try and prove a point anymore. You're going to believe what you want. My whole life I've faced rumors like 'You can't have that butt, it must be implants' or 'your waist is so small, you must have had a rib taken out.' Everything that I do is unbelievable.
I just happen to be in the limelight and people want to pick on me. There are other women going through the same thing as me.