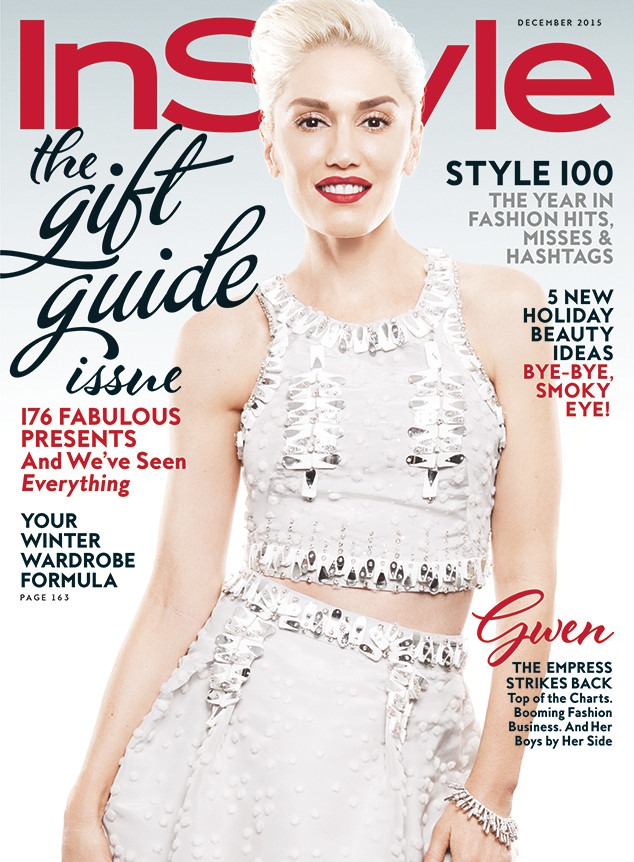 InStyle / Time Inc.
Gwen Stefani rocks a gorgeous, chic and wintery look on the cover of InStyle magazine's December 2015 cover...and her outfit may bring back some fond '90s memories for her fans.
The 46-year-old ska and rock singer, fashion designer and coach on NBC's The Voice sports a sleeveless ivory and silver embellished crepe Carolina Herrera spring 2016 Ready to Wear crop top, which retails for $2,990, and matching $4,990 box pleat maxi skirt.
Stefani was the unofficial queen of sleeveless, decorated crop tops in the '90s, when the popularity of her band No Doubt was at its peak, sporting them onstage and in many of the group's music videos.
InStyle's December 2015 issue is out on Nov. 13. The magazine interviewed her at the $13 million Beverly Hills home she shares with Gavin Rossdale, her husband of 13 years, father of their three sons and soon-to-be-ex.
Stefani filed for divorce in August. She is currently making headlines over a new and blossoming relationship with her The Voice co-star, country singer Blake Shelton.
Weeks before the InStyle interview, Stefani began cleaning her closet.
"That's my wedding dress," she told InStyle, nudging a large white box with her toe.
Stefani and Rossdale, the 50-year-old lead singer of grunge band Bush, wed in 2002. She wore a pink ombré Christian Dior gown.
Stefani talked to InStyle about balancing work with her personal life as a married mom in the years leading up to her and Rossdale's divorce.
"Every day I would take the kids to school, drive to Santa Monica, work the [new No Doubt] album, and then I'd think, 'Oh my God, if I don't leave by 2:30, I'm not gonna get home in time for dinner. And Gavin being on tour...I'm not gonna say there weren't some incredible moments making that album. But it was a lot of knocking my head against the wall. A lot of struggle."
Stefani joined The Voice in season 7 in 2014, joining Shelton, Adam Levine and Pharrell Williams and replacing veteran coach Christina Aguilera temporarily. The two have since alternated as coaches, with Stefani appearing on the show in the fall seasons.
"I got so much out of that first season that I didn't expect, creatively, from being around so much music," Stefani told InStyle, adding, "There were hard times before the baby, personally, that were just not good. And then having Apollo, and being on the show, and being refreshed— it was just like, Whoa!"
"Filming the show...was so amazing," she said. "I cried every day I was there. It was so intense. But I'm in a really positive place now."
(E! and NBC are part of the NBCUniversal family.)