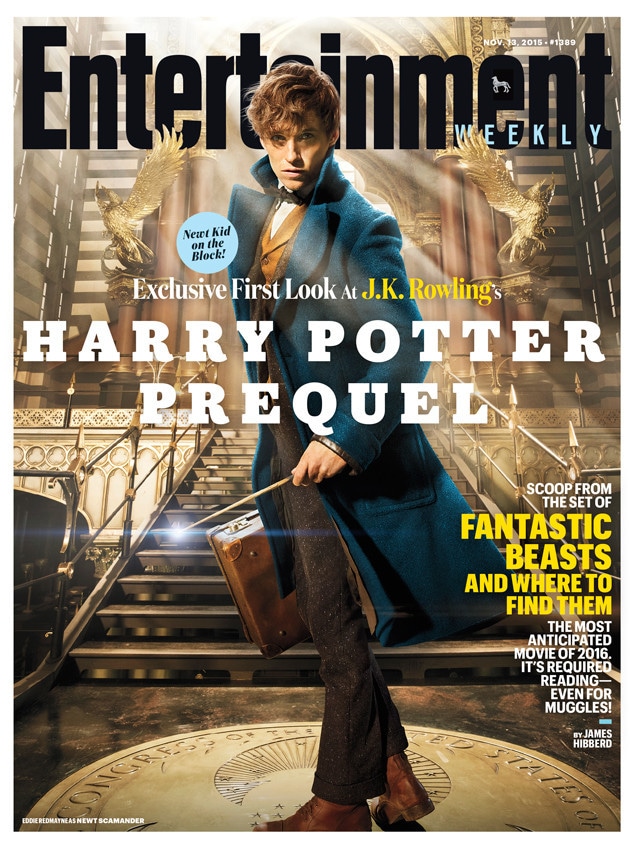 EW
Don't worry. There are no spoilers here!
When it was first announced that Fantastic Beasts and Where to Find Them would be adapted into a feature film, you might have asked yourself how a very thin catalog of creatures could make for not only a movie but also an entire trilogy. Originally, Warner Bros. had the idea to make it into a documentary about the "author," Newt Scamander, who tracked magical beasts in the magical world of Harry Potter (70 years before our beloved HP, of course).
But the actual author, J.K. Rowling, had a better idea, so she penned her own screenplay for the very first time, per Entertainment Weekly. Yes, they adapted all of her Harry Potter books into films, but she only had creative input. Fantastic Beasts will be her first-ever screenplay, and we can't wait.
So, what can we expect from the highly anticipated first installment?
Eccentric magizoologist Newt Scamander (Oscar winner Eddie Redmayne) comes to New York with his trusty weathered case that can obviously hold way more than it appears to be able to contain, just like any other tote we've come to know and love in the magical world of Hogwarts. Within this case there are expansive habitats for a collection of rare and endangered magical creatures from Newt's travels around globe, according to EW.
Good ol' Newt soon discovers the American wizarding community is fearfully hiding from Muggles No-Maj and the threat of public exposure is an even graver concern than in the UK. Fantastic Beasts is the story of what happens when Newt travels to wiz-phobic America and a variety of his creatures, some quite dangerous escape from his elusive case.
The magazine also revealed character descriptions for the most notable people of the story.
Newt Scamander (Redmayne): Our hero, a "magizoologist" who likes animals more than people, who journeys to America with a magical case full of extraordinary creatures.
Porpentina "Tina" Goldstein (Katherine Waterston): An ambitious employee of the Magical Congress of the United States of America who befriends Newt.
Queenie Goldstein (Alison Sudol): Tina's younger sister, who can read minds.
Jacob Kowalski (Dan Fogler): The first "Muggle" main character in the series who gets swept into the action by circumstances not yet explained.
Graves (Colin Farrell): An auror and "right-hand man" to the President of the American Wizarding world.
Mary Lou (Samantha Morton): The villainous leader of "The Second Salemers," a group that certainly sounds like it has nasty plans in store for our heroes.
Credence (Ezra Miller): Mary Lou's mysterious adopted son.
Fantastic Beasts and Where to Find Them is set for release on Nov. 18, 2016.