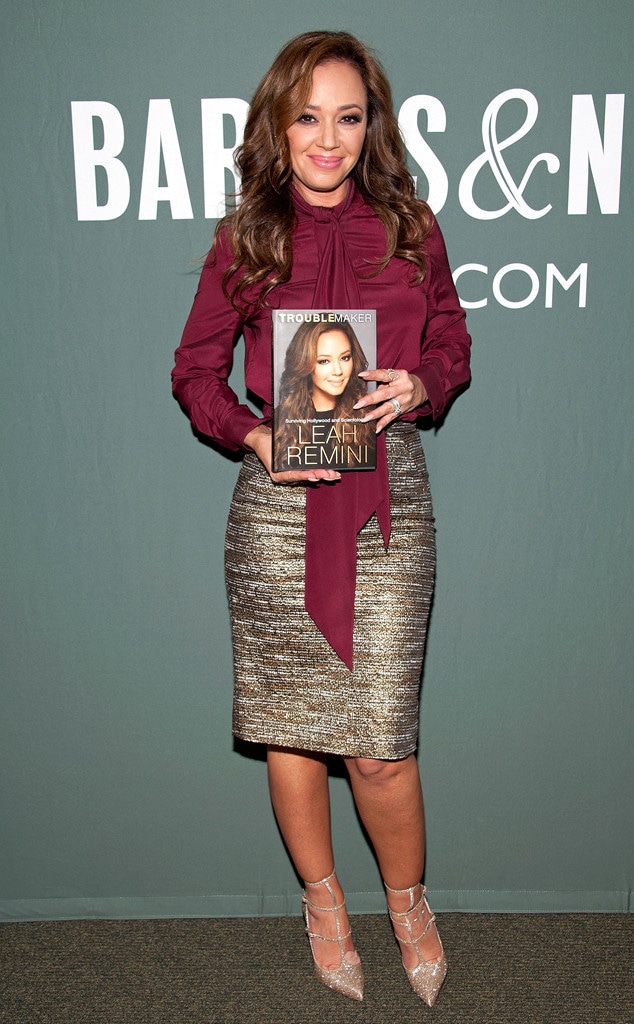 D Dipasupil/Getty Images
Leah Remini continues to promote her Scientology tell-all Troublemaker: Surviving Hollywood and Scientology (out now), and most recently went to Barnes & Noble in New York for a Q&A with fans and former Scientologist Paul Haggis.
The screenwriter, who is known for publicly speaking out about the controversial religion, hosted the event with the actress, and between the two, the audience were told even more about what allegedly goes on when you practice Scientology, and when you choose to leave.
Both Remini and Haggis shared personal anecdotes about what they experienced when practicing Scientology. Here are four revelations you need to know from their sit-down conversation:
1. No Namaste Allowed: Interestingly enough, when it came to physical and mental fitness, Remini revealed that she wasn't allowed to practice yoga, because "it would mix the practices of the religion.
2. Aching Heart: It's no secret that those who leave the church are then cutting ties with people who are still connected to Scientology. When asked who they each miss most, the conversation became emotional.
Haggis said he misses his business manager Kevin Burke, and shared that Burke told Haggis to fire him if he ever left the church because he didn't want to have to go against him.
An emotional Remini told the audience that she is "going to have godchildren and family I won't ever see." The actress didn't specify who she was talking about, but added that the relationships are heartbreaking, and said that it hurt her more that they didn't have the integrity to stand by her.
3. No Regrets: Despite all of the hardships faced for deciding to leave Scientology, Remini can't say she regrets anything or having the experience. She told the crowd this was a path for her to stick up for daughter and to help other people, and this helped her feel like the fighter in her was validated.
4. Secret Revealed?: During Q&A with fans, Haggis and Remini were asked about a secret jail. Haggis explained that he personally knows there is one called the RPF (Rehabilitation Project Force), which caused Remini to laugh. However, Haggis added that he's heard rumors of there being worse jails, too.
Remini's claims have been challenged by the Church of Scientology.
"Her repeated ethical lapses and callous treatment of others led to an ecclesiastical review which resulted in her being expelled," the organization told E! News in a statement.
"She now regurgitates the tired myths the Church has repeatedly debunked, circulated by the same tiny clique of expelled former staffers bitter at having lost the positions they enjoyed before their malfeasance and unethical conduct were uncovered."
The Church also said that Remini "knows the truth she conveniently rewrites in her revisionist history."
As far as Haggis—who reached out to Remini through an open letter when she announced her departure—the church has previously stated that his "statement that the organization anonymously comments negatively about those who leave the Church is delusional and borders on paranoia...Mr. Haggis has chosen to align himself with a small posse of lunatics with arrest records, who have acknowledged in depositions to being secretly on the payroll of tabloids and who have admitted on national television to outright lying."
—Reporting by Eleni Lazares