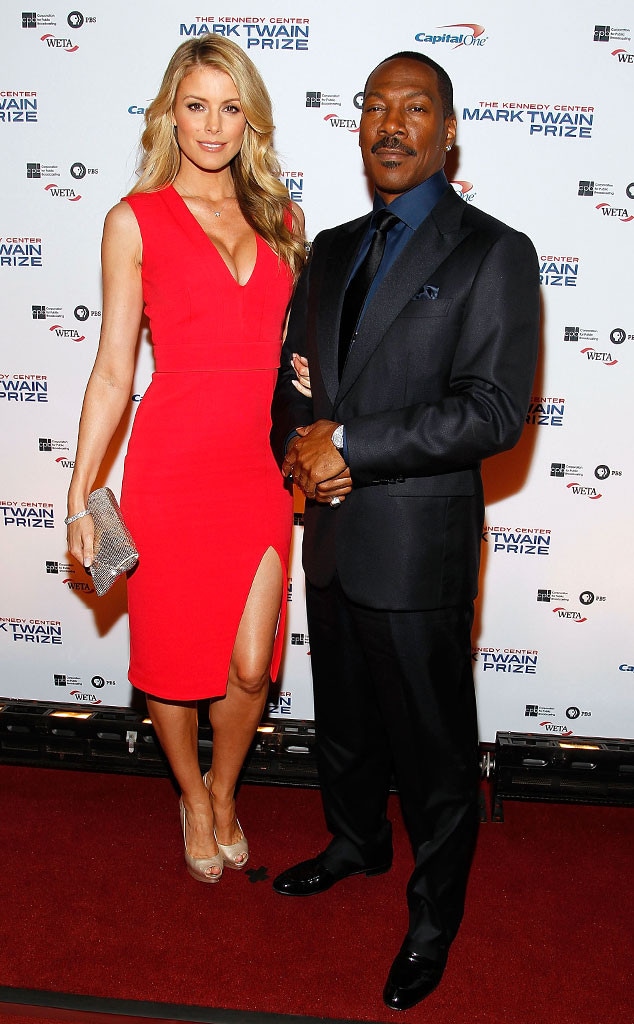 Paul Morigi/WireImage
This is no joke: Eddie Murphy is going to be a father for the ninth time!
The comedian, 54, and his girlfriend Paige Butcher, 36, "are pleased to announce that they are expecting a child in May," Murphy's rep told E! News Wednesday. This will be the first child for Butcher, an actress and model who has been dating the Beverly Hills Cop and Coming to America actor for four years.
The parents-to-be most recently stepped out in public together when Murphy was given the Mark Twain Prize for American Humor in Washington, D.C., last month.
In the last four years, neither Murphy nor Butcher have said much about each other in the press. In 2013, however, Butcher did open up to Vanity Fair and admitted that her her relationship with Murphy made her wary of joining social media. "I'm in a relationship with a celebrity, so I felt like there's already enough of me out there," the Australian star said. "I felt like I was giving out too much information. I was giving people too much access. I like to keep as much private as possible now."
As for his other children, Murphy and his ex-wife, Nicole Mitchell, 47, have five kids together: Bria, 25, Myles, 22, Shayne, 21, Zola, 15, and Bella, 13. Additionally, the stand-up comedian also has a 26-year-old son, Eric, with his ex-girlfriend Paulette McNeely; a 25-year-old son Christian, with his ex-girlfriend Tamara Hood; and an 8-year-old daughter, Angel, with America's Got Talent's Mel B.
As Murphy and Butcher prepare for the arrival of their first child together, the actor is also gearing up for a role in director Lee Daniels' Richard Pryor biopic. As Deadline reported in August, Murphy was tapped to play Pryor's father, Leroy "Buck Carter" Pryor. Mike Epps will play the iconic comedian, while Oprah Winfrey will star as Pryor's grandmother, who ran a brothel and raised Pryor there. Kate Hudson was cast as Pryor's widow, Jennifer Lee Pryor.
Entertainment Tonight was first to report the couple's baby news.