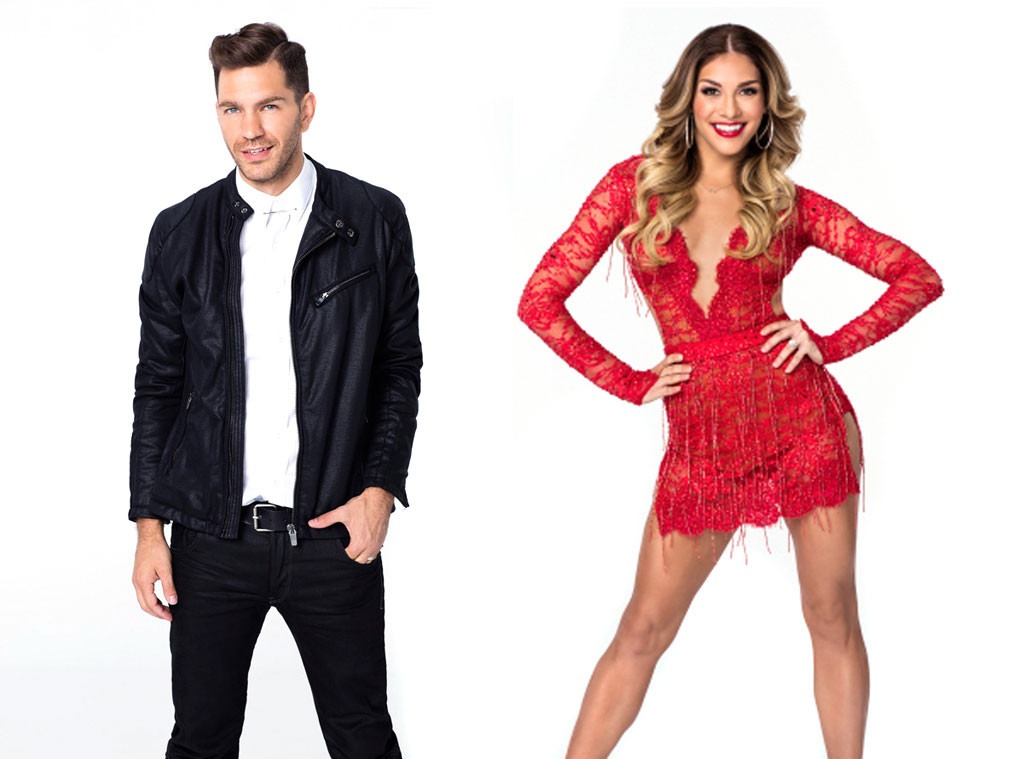 ABC
Tonight's Dancing with the Stars theme of "personal icons" was pretty much designed to cause tears, and boy did it deliver. 
There were sad tears, there were happy tears, and there were just some generic tears from whatever's been stuck in our eye for two days. 
We know, we cry a lot, but who didn't start leaking a little bit before, during, and after Nick's tribute to his pregnant wife Lauren?
Andy Grammer in particular went on quite the emotional roller coaster, from his teary dance dedicated to his mother to giving up on the samba in favor of doing a flip and the worm, right before he was unfortunately eliminated. 
Aside from that unfortunate inevitability, tonight gave us some truly awesome performances, and we ranked them from "not the best but still pretty good" to "oh my god, rewind that!" 
7. Andy Grammer and Allison Holker: 22/30 + 2 for dance-off
This was a tough one, because Andy's story is so beautiful and sad, but the dance was a bit of a struggle. It just seemed like Andy was a little distracted, which was understandable. 
6. Alek Skarlatosand Lindsay Arnold: 25/30 
Alek's tribute to Chris Kyle was pretty good, but we were thrown off by the serious version of "I Need a Hero." We also feel like Alek and Lindsay's routines could be a little more fun and creative, because he's grown into a solid enough dancer that he can handle a little spice at this point. 
5. Tamar Braxton and Val Chmerkovskiy: 28/30 
"Born this Way" is a weird choice for a Paso Doble, but Tamar really killed it. We just wish she and Val looked like they were having more fun together. 
4. Carlos PenaVega and Witney Carson: 27/30 + 2 for dance-off 
Carlos was terrified of the salsa, but he didn't need to be. He kinda looked like he'd been doing it his whole life. That one lift was a little bit of a disaster, but otherwise, fun!
3. Alexa PenaVega and Mark Ballas: 25/30 + 2 for dance-off 
Alexa has officially had the coolest dance themes this season, and who doesn't love the idea of David tangoing with Goliath? 
2. Bindi Irwin and Derek Hough: 28/30 
So. Much. Fun. This little tribute to Grace Kelly was just adorable and so full of happiness that we wish we could bottle this dance and drink it like Red Bull. 
1. Nick Carter and Sharna Burgess: 30/30 + 3 for top score 
Nick and Sharna's gorgeous routine to "Can't Help Falling in Love," dedicated to Nick's pregnant wife Lauren, was positively perfect and so, so beautiful. Extra points for the adorable announcement that their baby is a boy, which you can watch below. 
Who had your favorite dance of the night? Are you sad to see Andy go? Sound off in the comments! 
Dancing with the Stars airs Mondays at 8 p.m. on ABC.