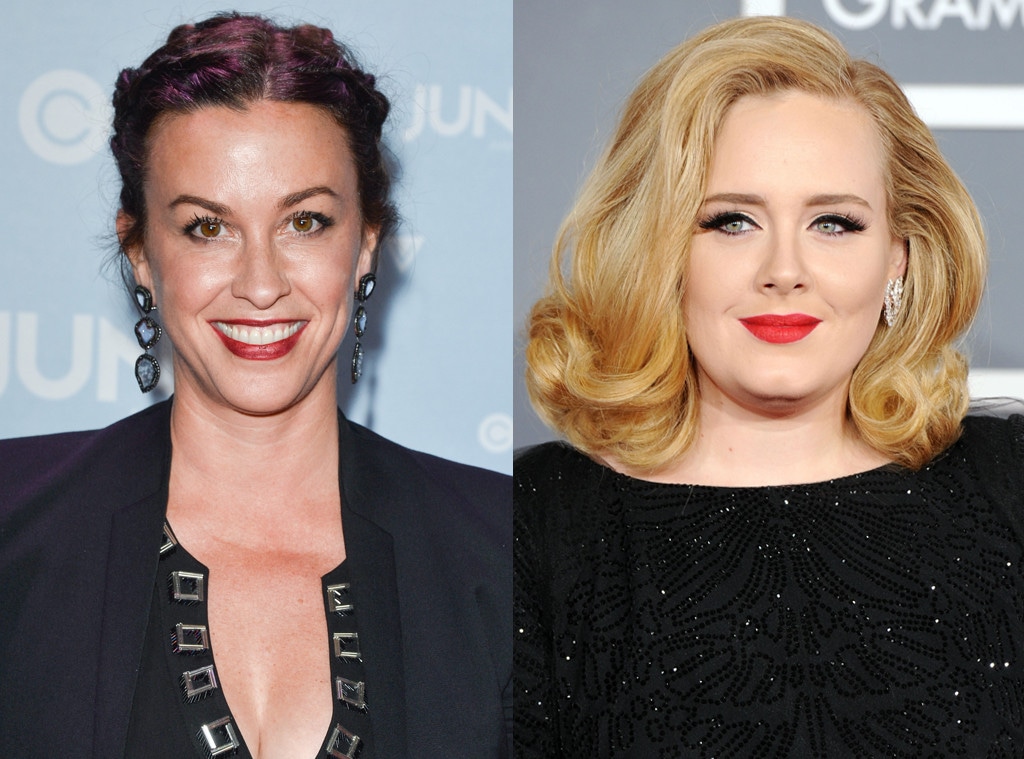 Jason Merritt/Getty Images/George Pimentel/WireImage
Omgah. If you are not jumping in your JNCO jeans right now, you're not a true child of the '90s. Alanis Morissette changed lives everywhere when she announced the re-release of her breakout album, Jagged Little Pill. And no, we're not making this stuff up.
Thankfully the news is real, and she posted the album cover to her Instagram to prove it. Alterna-goddess and touchstone for childhood angst was on Good Morning America to promote the news and give an epic little throwback performance. The 20th anniversary (yes, we feel old) collector's edition album will feature ten bonus tracks as well. 
There's a reason Jagged Little Pill always seems to be every millennial's starter CD. The album was a massive hit for Alanis, breaking all sorts of records and flying to the top of the charts. Which kind of reminds us of a special singing slay kween also known for breaking a few records in the game.
We're talking about Adele, in case you've been living under a Wi-Fi-free rock. According to The Hollywood Reporter, her album 25 is projected to sell between 1.3 million and 1.8 million copies in the first week.
Both Adele and Alanis are are no stranger to setting records in the music industry. That being said, we think Alanis was totally the Adele of the '90s, and we've got the proof below.
Both talented women won a Grammy for Album of the Year. Alanis was presented with the award in 1996 for Jagged Little Pill, and Adele in 2012 with 21. How sweet is that throwback pic of young Alanis recording, BTW?
Each artist has record-breaking first's to brag about as well. Until Taylor Swift came along, Alanis was the youngest person to win a Grammy for album of the year. Adele is also on that list, coming in at No. 5. Adele's first is a little different but no less important. Her song "Hello" became the first to sell one million downloads in a week. Fire!
Alanis and Adele know a thing or ten about making an epic breakup song. We've all heard the rumor that Morrisette's "You Oughta Know" is about Dave Coulier. Who would have thought, right? The songstress ended all speculation on Good Morning America however. Sorry not sorry, we're still going to pretend she's singing about Uncle Joey. Meanwhile, Adele's massively successful breakup song was "Rolling in the Deep"—which earned the singer her first U.S. number one hit. 
Hashtag girl power. As far as the charts are concerned, the influential women both have albums that reached number one. Jagged Little Pill and 21 both peaked at the top, and the rest is history.
Do you think Adele is the Alanis of modern day? Tell us why in the comments!
Sorry, Miley Cyrus, watch Adele take the top spot on Vevo