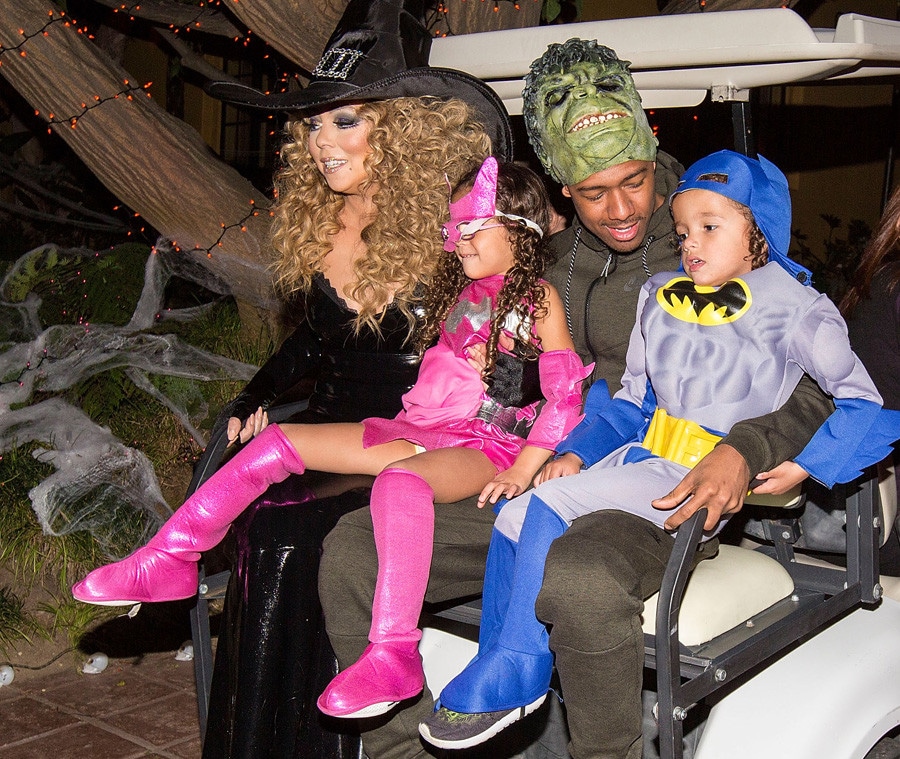 FilmMagic
Halloween sure can bring people together!
As many celebrities hit the town in their best costumes to celebrate the spooky day, Mariah Carey decided to stay close to home and host her own family friendly holiday party.
Held at a $15 million estate near Beverly Hills that the Las Vegas performer rented from Airbnb, the celebration featured a dance floor, candy apple martinis for adults, fried mac and cheese for kids and Sugar Factory candy for all.
Carey opted for a black leather dress with matching gloves as she portrayed a beautiful witch. Meanwhile, her boyfriend James Packer kept things simple with a suit and a Phantom of the Opera inspired mask.
The couple welcomed guests including Tracey Edmonds, Jeff Beacher, Kelsey Grammer and Carey's ex-husband Nick Cannon who was able to celebrate with the twins or "dem babies." 
"Mariah and Nick got along great and were super friendly towards one another." a source shared with E! News. 
Before visiting neighboring homes, Monroe and Moroccan showed off their Batman and Batgirl outfits as mommy and daddy posed for family photos. The twins would later receive plenty of candy while trick or treating.
"#RocandRoe going hard this Halloween! #BatGirl #Batman," Cannon shared Saturday night while dressed as a zombie. "And Batman escapes with a sack full of candy!!"
The fun Halloween night comes after E! News learned that Cannon and Carey are on good terms. In fact, the America's Got Talent host is supportive of Carey's new man.
"Nick is doing well in his personal life and he just wants Mariah to be happy," a source shared with E! News this past summer. "He feels as long as his kids are in good hands, he will support any decision Mariah makes."
The insider added, "Mariah will always be in Nick's life that will never change. It makes Nick happy that Mariah is in a great place in her life between work and love."
—Additional reporting by Marc Malkin