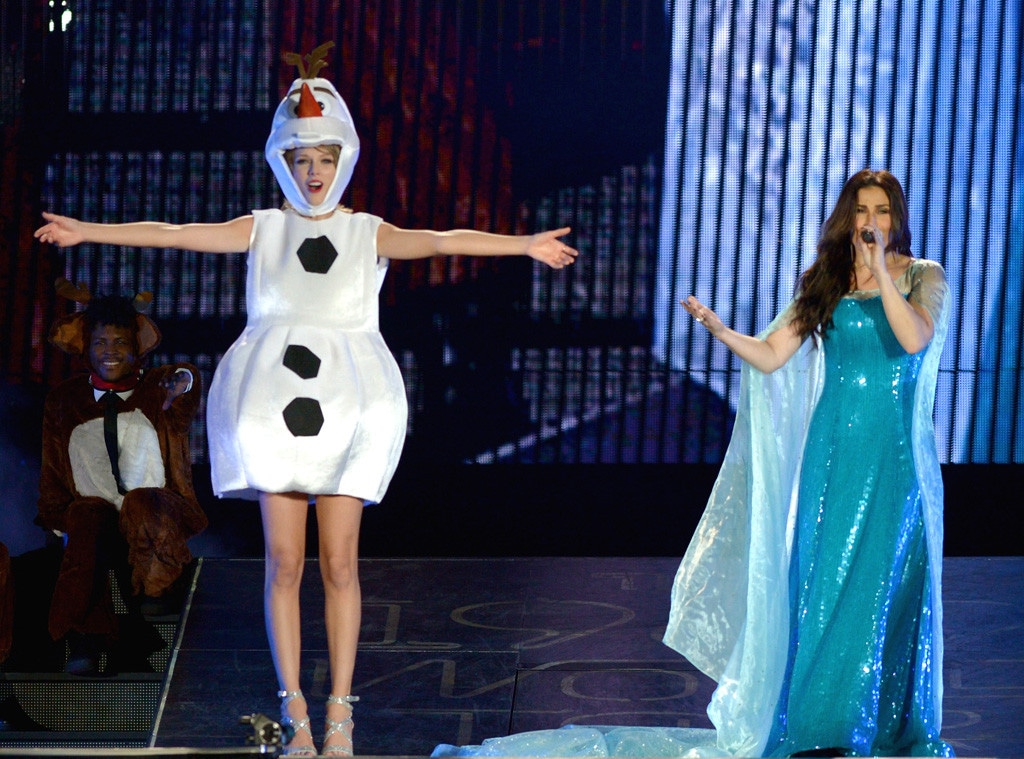 Tim Boyles/LP5/Getty Images for TAS
How's this for a Taylor Swift Halloween surprise?
The pop star was certainly in the holiday spirit at her concert at Raymond James Stadium in Tampa, Florida on Saturday night, as she donned a costume herself and brought out a special celebrity guest who was dressed perfectly for the magical moment.
It was Idina Menzel, who not only sang with her that song, yes, "Let It Go," from Disney's Frozen, but also looked absolutely stunning dressed in her character Elsa's sparking turquoise gown and aqua cape.
Swift joined in at the second verse of the song and looked adorable dressed as Olaf the snowman, a costume she wore onstage before she introduced the Broadway star, while performing "Style." Her dancers donned furry reindeer outfits.
"Frozen totally happened tonight," Swift wrote on Instagram. "And 55,000 people sang 'Let it Go' so loudly, it nearly took my breath away. Good times, @idinamenzel."
And they weren't finished with the surprises; Mid-song, dancers helped Menzel strip off her Elsa dress to reveal a sexy black corset and matching pants with sheer, lace side panels. Oh my!
Tim Boyles/LP5/Getty Images for TAS
Tim Boyles/LP5/Getty Images for TAS
"Thank you @taylorswift!" Menzel wrote on Instagram. "That was definitely an out of body experience. Or out of Elsa's body experience! #1989tourtampa"
During the concert, Swift and Alessia Cara also performed the latter singer's song "Here."
Watch:
Idina Menzel Nails National Anthem at Super Bowl
Check out more pics of Swift's celebrity guests during her 1989 tour.