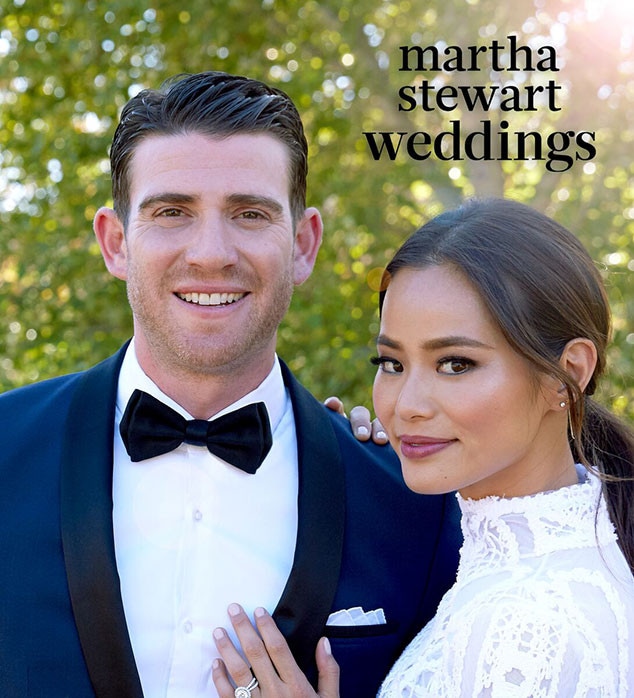 Thayer Allyson Gowdy/Martha Stewart Weddings
A wedding ring on Halloween night sure is sweet!
Jamie Chung and Bryan Greenberg spent their spooky holiday doing much more than trick or treating. In fact, they decided to say "I Do" in front of family and close friends.
The Hollywood couple exchanged vows Saturday evening at El Capitan Canyon, a nature lodging resort in Santa Barbara, Calif., E! News can confirm.
According to Martha Stewart Weddings, the ceremony included personal vows and Jewish traditions. At sunset, guests enjoyed cocktails and dinner at the "rustic-chic celebration." E! News has also learned that guests toasted the big day with Luc Belaire bubbly. 
"We're embracing the fact that [the wedding] is on that weekend," Chung told E! News one month before the special day. "We're going to have fun with it."
Hard Rock Hotel & Casino Punta Cana
And that they did! E! News learned that the wedding weekend began Friday when the couple hosted a "Boos & Booz Welcome Dinner" at the resort where guests were asked to show up in costume. On Sunday, attendees are invited to a send-off breakfast where attire will be casual.
The couple first began dating in the spring of 2012 after knowing each other for several years. Greenberg would ultimately pop the all-important question in January 2014.
Before the special wedding day came, however, Chung was able to celebrate her upcoming wedding with a bachelorette party and bridal shower.
Back in September, the Once Upon a Time star traveled to the Hard Rock Hotel Riviera May in Mexico for a special celebration with her girlfriends. One month earlier, Chung enjoyed an "enchanting garden-inspired afternoon" at her bridal party.
And throughout all of the planning and preparation, Chung always tried to simply enjoy the moment.
"I've gotten so much great advice and it was just go with the flow and don't fight anything," she shared with E! News. "I was never the type to get crazy about my own wedding. I just think it's going to be a fun time."
Congratulations to the couple on their special day!
(Originally published on Saturday, Oct. 31, 2015, at 6:03 p.m. PDT.)
Celebrity party planner Mindy Weiss reveals the biggest trends for weddings in the video above.