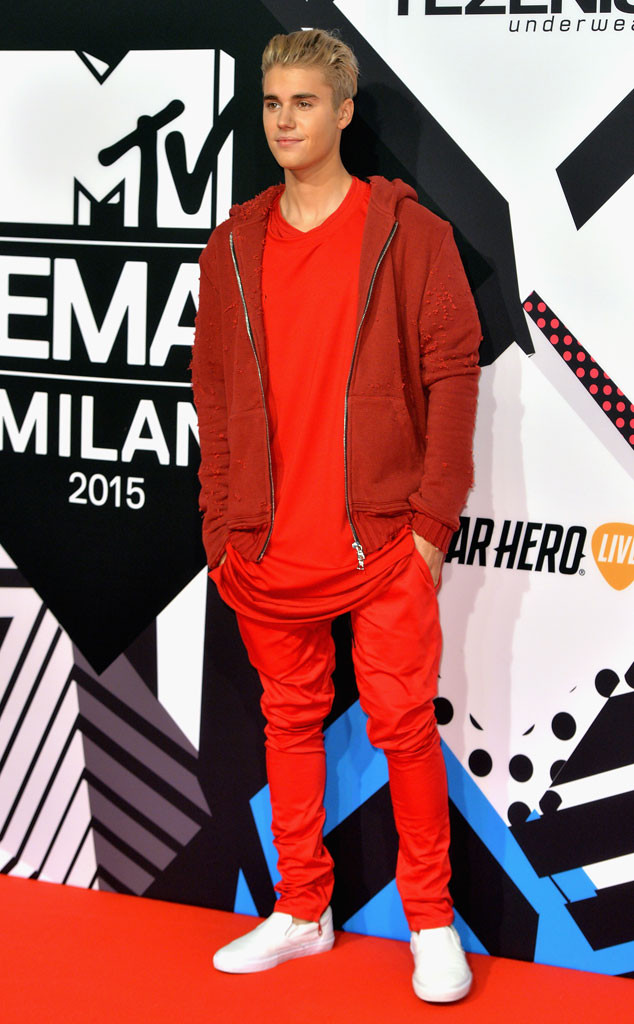 Anthony Harvey/Getty Images for MTV
This probably isn't the strongest start for Justin Bieber to reinvent his image.
The singer has made numerous headlines over the years for his antics while in the spotlight, and although he promised to turn over a new leaf and change his ways, the last 24 hours of his Purpose promo tour seem to argue otherwise.
Bieber walked out of an interview with Spanish radio station 40 Principales on Wednesday after they asked him to help them "break the Internet." The young star seemed a little irritated from the get-go, but continued to answer questions until he got to the point where he didn't even try to fake the funk.
Justin appeared to be getting up to participate in the challenge to help do the previously mentioned task, but instead, he walked off and exited through the door. He never came back. And if you think about it, he kinda did what he was asked, right? Everyone is talking about it today.
So he walked out of an interview. We've seen that happen with a number of stars. However, that was just the beginning. During a television performance today in Oslo, Norway, Biebs got fed up with the fans and ended up cutting the show short.
"What are you doing? I said stop it. Guys, yo, listen to me! I'm trying to wipe the floor, give me a second," Bieber told the crowd in a video obtained by TMZ while trying to clean something that spilled on the stage floor. "Never mind. I'm done. I'm not doing the show. I'm not doing the show," he said while storming off after a fan apparently got in the way of whatever he was cleaning up.
In this instance, Bieber did feel the need to explain his behavior and took to Instagram to do so:
Sadly it's Been a rough week for me, long days no sleep, while having to be "on" as they would say for cameras fans etc. In no way did I mean to come across mean, but chose to end the show as the people in the front row would not listen. Hopefully people will understand where I am coming from. I don't always handle things the right way but I'm human and I'm working on getting better at responding not reacting. Unfortunately people were affected by this as am I. For the people in the back I am so sorry and for anyone I may have disappointed im sorry. Sorry for wasting the tv people's time I'll be sure to make it up to you next time on tour.. With love Justin.
His apologetic tone is reminiscent of his Comedy Central Roast in March, when the celeb closed the show by offering a mea culpa for all of his troublesome actions in the past.
"I turned a lot of people off over the past few years, but I know I could still turn out good music and turn everything all around. You have my word I will not end up broken, pathetic, bitter or sitting on somebody else's roast," he told the crowd.
"There's really no preparing me for this life; I was thrown in this at 12 years old and didn't really know what I was getting myself into," Bieber explained. "There's moments I've been really proud of and a lot of moments I look back and I'm pretty disappointed in myself for. But the things that I've done don't really define who I am. I'm a kind-hearted person who loves people and through it all I lost some of my best qualities. For that, I'm sorry."
As for the last 24 hours, Bieber reiterates that all he cares about is the music.