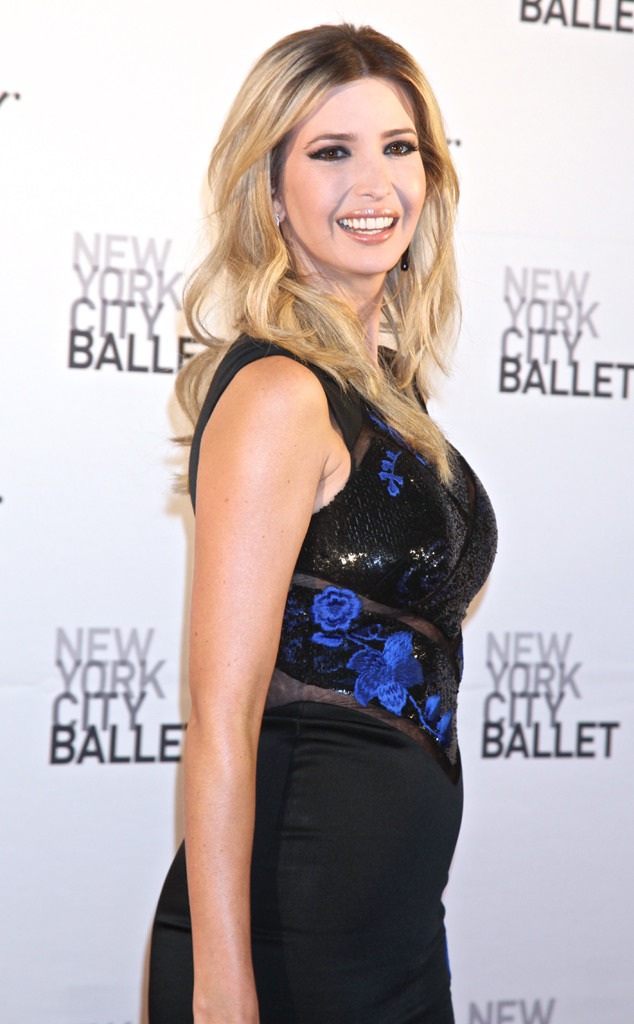 Andrew H. Walker/Rex/REX USA
We're not entirely sure what sort of mysticism is afoot, but Ivanka Trump has us under her spell.
Amid any controversy her dad might kick up, the Wharton-educated businesswoman, fashion mogul and soon-to-be mother of three wondrously manages to emerge unscathed, reliably serving as a cool, classy drink of water in the middle of whatever political firestorm Donald Trump has gleefully caused on any given day.
And Ivanka, the daughter of Trump and his first wife, Ivana, doesn't do this by separating herself from her famous family or otherwise discrediting her father. No, she somehow manages to remain as publicly attached as ever and yet she's never part of the negative portion of the Trump conversation. As we said...
Paul Morigi/Getty Images for Fortune/Time Inc
Magic.
The VP of Development & Acquisitions of the Trump Organization is turning 34 today and, while her father campaigns for the Republican presidential nomination in 2016, we'd like to elect Ivanka as Flawless Badass in Chief.
We're not just talking about the grace she's shown in the face of a new kind of scrutiny since Dad threw his hat in the ring in June, either, though that's certainly one of the reasons our admiration endures. In fact, she's been leading our Trump family poll for years!
In honor of her birthday today, here are 10 reasons why Ivanka Trump is totally the best Trump:
She Wins at Instagram: Her page is the you-can't-ask-for-more combination of fashion, intimate family pics, inspirational career gal moments, food, New York cityscapes and words of wisdom—but not always her own words, though Ivanka is the author of The Trump Card: Playing to Win in Work and Life and has more than a few suggestions.
She Totally Won Every Version of Apprentice: Episodes when Ivanka was one of The Donald's advisers were always the best ones—not to mention, she added a certain gravitas. Like, a real gravitas, not the fabulously put-on "Thank you, Mr. Trump" gravitas that was the show's stock-in-trade.
Billy Farrell/BFANYC/Sipa USA
Nice Catch: That goes for both of them, of course, but we're fans of Ivanka's hubby, New York Observer publisher and real estate investor Jared Kushner, who at 25 bought the Observer and ultimately helped save it from a predicted demise in the waning days of paper papers.
Ivanka also converted to Judaism before their 2009 wedding at Trump National Golf Club in Bedminster, N.J. "His own dreams are bold, and I love that in someone, but he's incredibly relaxed and calm...I feel really lucky to have met, like, a great New Jersey boy," she told Vogue this past February.
And maybe it's friend-by-association but, if she likes him... We're sold.
NBC/Today Show/Elle Decor
Her Bedroom Is the Epitome of #DesignGoals: Ivanka opened up the humble abode she shares with Kushner and their brood to Elle Decor and, spoiler alert, it's the picture of taste. It's decidedly lacking in gold, but this is a muted palette we can get behind.
She Knows How to Throw a Party: Even when it's for a 2-year-old. We're spying two cakes (well, son Joseph was turning 2 after all, but we have our suspicions that Mom and Dad didn't want 4-year-old Arabella to feel slighted), some on-point balloons and a tempting veggie platter. Presumably Ivanka gets a say when it comes to planning any sort of family ball, inaugural or otherwise.
Getty Images; PacificCoastNews.com
Effortless-Style Envy: Sure, the bottomless resources make it easier to put together an outfit or pull a few couture strings, but money doesn't buy that certain je ne sais quois or the relaxed yet polished way that Ivanka wears clothes. Dad's ties have their following, but we'd wear anything from the Ivanka look book.
She's Got Game (or She Had Game): Appearing on Late Night With Conan O'Brien in 2009, before she was married or otherwise engaged, Ivanka explained to the host that was looking for a guy who was "confident, secure...not unlike Jeff." "Your glasses just all fogged up," Conan teased Jeff Goldblum, who also was unmarried at the time and being his most Goldblumy self.
She Taught a Master Class in Political Speak—in 2006!: Ivanka and Don Jr. interviewed their dad, and vice versa, for Forbes, and when the real estate magnate asked them what their favorite deal they had worked on so far for the Trump Organization was, Ivanka claimed she couldn't pick only one because there's "so much depth to our portfolio."
Dad seemed perfectly satisfied with that answer. His tacit nod indicates that all of his deals are his favorites, too.
And Yet She's Not Very Political, at Least in Public: When she talks about her father's political antics, either a couple years ago when he was stirring up an argument about President Barack Obama's birth certificate or more recently, Ivanka somehow manages to avoid talking politics. Which presumably makes it easier for someone who donated to Hillary Clinton's 2008 campaign and endorsed Mitt Romney in 2012 to stay friends with everybody.
Everybody, by the way, includes Chelsea Clinton and her hubby, Marc Mezvinsky, as well as Kushner's brother Joshua and his girlfriend, a model-coder you may have heard of, named Karlie Kloss.
She's Been Perfectly Poised About Dad's Campaign: As in, she's neither sarcastic in an eye-rolling, "Ugh, my dad's so embarrassing way," nor does she gush over him in a drinking-the-Kool-Aid sort of way.
"Are you happy that your father is running for president?" she was asked by Fortune magazine's Pattie Sellers earlier this month. "That's a complicated question," Ivanka smiled. "So...happy is an interesting word. I'm incredibly proud of him. It's a very difficult thing to do and I see now just how difficult it is."
It was all in the delivery. Ivanka pulled off supportive-reverent-humorous-serious all at once while still sounding aware of the fact that Papa Trump is one of the most polarizing guys on the planet right now. (In fact, if Dad were as eloquent as his daughter is, he might not be losing ground to Ben Carson.)
Ivanka 2020? Kanye, consider yourself served.
E! Online and NBC are both members of the NBCUniversal family.)