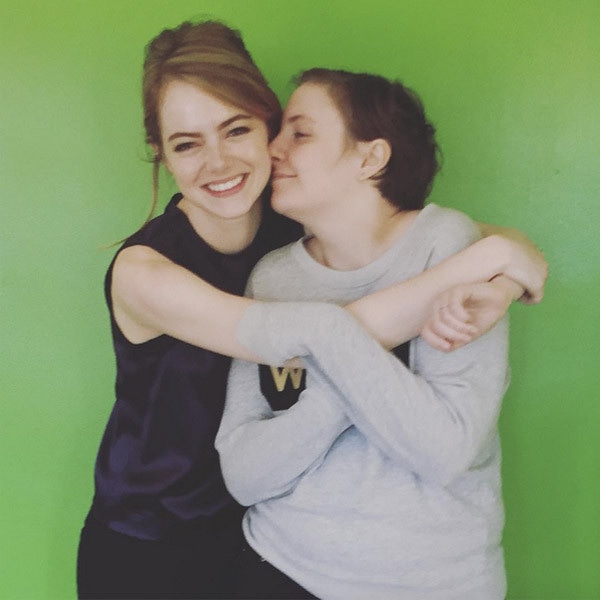 Instagram
Ladies and gentlemen, listen up!
Emma Stone and Lena Dunham are having a dialogue about how women are treated in the workforce. "I get called names as women, on set and off, that aren't that fun," Dunham said in a Women of the Hour podcast preview, released Thursday. The Girls creator, 29, and the Easy A actress, 26, said they have both been called "sweetheart," "baby," "honey" and straight-up "babe" in professional settings and they hope people will now rethink using sexist terms.
To do just that, the actresses teamed up to create a list of "alternatives" that they think "would be better" if people insist on calling them by a nickname: "pal," "kid," "bud" and "bucko" are all acceptable terms, the two stars agreed. "Oh, I love 'bucko,'" Stone said. "I want people to call me bucko so much." Dunham joked, "Everyone will call you 'bucko' on set. Everyone will be like, 'Is bucko ready?'"
Dunham and Stone also like the word "dude."
"You know what I realized about the word 'dude?' It means everything," Stone said. "It's one of the only words in the American version of the English language that can mean anything...What other word can give you all of those feelings?"
"I feel like in England it would be mate," Dunham suggested. Stone replied, "I would mind, actually, being called 'mate.' I don't want anyone to call me 'mate.'"
"How would you feel if anyone called you cap'n?" Dunham asked.
"As in Crunch?" Stone asked.
"Yeah, like Cap'n Crunch," Dunham said. "Or like cap'n of my ship."
"For some reason it sounds like cappin'," Stone said, "which I don't love as much."
Doc is also an acceptable nickname, they decided. "Actually any of the Seven Dwarfs. I would love to be called Sneezy. Not Dopey! Don't say Dopey!" Stone said.
"I would love to be Sleepy," she added.
Dunham agreed, saying, "It's cute!"
Jokes aside, Stone said, "I mean, I guess the best-case scenario is that people call you by a nickname of your name that you're comfortable with. Like, anyone can call me 'Em.' That feels great. It feels personal and lovely, and you don't have to say sweetheart. You can just say 'Em.'" Dunham anticipated that some male listeners might argue that they "don't mean anything" when they call a woman "sweetheart." But, the HBO star advised, "When in doubt, don't say 'sweetheart.'"
"Just say my name," Stone agreed.