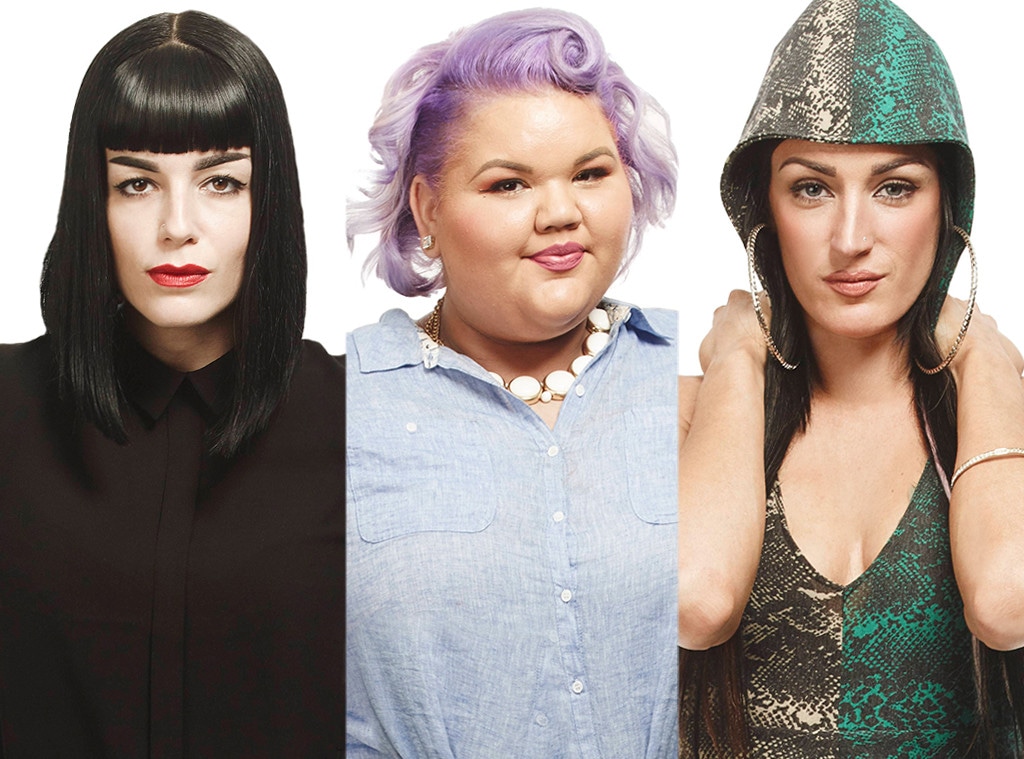 Barbara Nitke/Lifetime
You might tune in and out of Project Runway each season, considering it's been running for 14 years now, but trust us: This year is one of its best installments yet, and the final group of designers heading to New York Fashion Week are capable of some truly excellent work.
To prepare for part one of the finale, which will check in on designers Candice Cuoco, Kelly Dempsey and Ashley Nell Tipton as they prepare to show their collections, E! News caught up with the three women to discuss the judges, the challenges and their biggest competition.
What's your design aesthetic?
Candice: "I think it's strong, sexy and sophisticated all in one. I think my designs are very bold, but they can still be elegant. It's not for the faint of heart!"
Kelly: "I would say my style and aesthetic would be very eclectic. I don't listen to anyone or go by any rules. I sort of go by what's in my head, and just very fun and confident."
Ashley: "I would describe my style as having fun and being funky, showing your personality through your clothing and having fun with it. That's what I love to design—I love to design the clothing that is not out there for your average plus size woman, and I want to fill in the gap of that industry and not design cookie cutter things."
Who was the biggest competition in the beginning…
Candice: Swapnil Shinde, who finished sixth. "Swapnil from the beginning was just like, 'Damn, he's just going to come in and swoop the winning title and leave skipping out, jumping, waving, bye everybody!' The minute I saw the first thing that he did, it was just man, I fell in love with his work and I definitely kept an eye on him."
Kelly: Swapnil. "Just talking to him, he'd had so much training. He was in Prague and I'm sitting in my house like, 'Oh, I never did anything like that.'"
Ashley: Duncan Chambers-Watson, who went home first. "When we first got there I definitely felt like Duncan was my competition. But it's tough, because you don't know any of these people."
…and going into the finale?
Candice: Kelly. "[Kelly] and I have such different aesthetics, but [she] brings something to the table that nobody else really has seen. She sees things that nobody else sees, and she creates things out of nothing. To me, that's talent. She's just a great person all around, inside and out."
Kelly: Candice. "She really thinks about what she's doing and I think with the time she can really make something amazing."
Ashley: "It's really hard, because we are all individuals and I think each one of them are competition, but at the same time we're all completely different and we're all taking it in different directions. I think the main thing is to stay true to who you are."
Who was eliminated too soon?
Candice: Swapnil. "I do think he went home too early and I think what happened with him was misinterpreted and misrepresented. People thrive in different situations and I think he's a brilliant designer. He has more talent in his little tiny pinky finger than most designers I've met, and that's even speaking for everyone on the show this season, so I definitely think it wasn't his time to go. He should have stayed."
Kelly: David Giampiccolo, who went home in week two. "I really love David, and I wish he got to show a little bit more. Now looking at his style, it's just so cool and he's such a good person and free spirit and I think he had a lot more he could have done."
Ashley: Duncan, David and Hanmiao Yang, who were eliminated in the first three weeks. "These [designers] are not from the U.S., and I love their perspective of designing and I think that's what the show needed—to have different perspectives of design and what they think is fashion. I loved their designs; I just don't think Project Runway was ready for it."
Which judge gave the best critiques?
Candice: Zac Posen. "Aside from Tim Gunn, because he's just a blessing all season long, Zac Posen the whole entire time is the judge that I grew the most from. Through his positive and negative critiques I learned something every single time."
Kelly: Nina Garcia. "I can ask my mom, 'Hey, do you like this dress?' And she's like, 'Yeah!' That doesn't make me any better. I have no problem taking critique because you're over there and I'm standing here. I know that you obviously know what you're talking about. I really appreciate everything she says, positive or negative."
Ashley: "It's between Nina and Zac. I feel they gave me the best critiques that I could ever get. They definitely believed in me and they wanted me to continue believing in myself. They saw my vision; they saw how much better I can be without me even seeing it. They could see that I could do so much better and they wanted to push me."
What should people know about your collection?
Candice: "When I came into Project Runway, I loved a big show and all the chaos and the tricks and everything on it, and it's definitely helped me pull that back. You think all the loud noises and big ribbons and everything [is impressive] but in fact pulling it all back and having something very clean and striking is more confident because you're letting it speak for itself. [The collection is] an evolution of my growth on the show and really pulling back all my insecurities and just putting my designs out there for what they are. It is a cleaner, more sophisticated, older version of me, I think."
Kelly: "This is the first thing that people are going to really see from me where I don't have any stipulations—I don't need to pull it out of a dumpster. This is me. I can make whatever I want, and I really want people to know that it represents me as a person, as a designer. It's definitely super fun, and it's definitely a show."
Ashley: "It's going to be something that you have not seen walk down [the runway during] Fashion Week. I am here representing for myself and for the rest of the designs that I have been doing."
The Project Runway finale begins Thursday, Oct. 29 at 9 p.m. on Lifetime, and concludes with part two on Nov. 5.
Watch:
Heidi Klum Thinks E! Is Missing a Twerk Cam