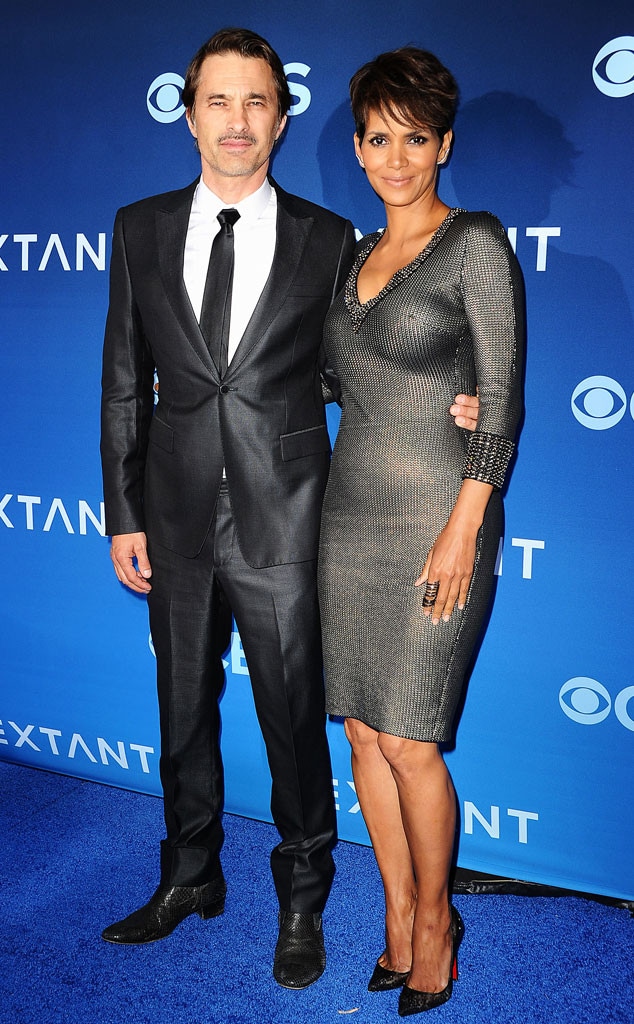 Jason LaVeris/FilmMagic
The tide has turned for Halle Berry and Olivier Martinez.
After it was revealed that Halle had filed for divorce in L.A. Tuesday, she and Olivier released a joint statement confirming that they have indeed broken up after two years of marriage. "It is with a heavy heart that we have come to the decision to divorce," the exes said. "We move forward with love and respect for one another and the shared focus of what is best for our son."
Halle and Olivier met in 2010 on the set of the movie Dark Tide. Three years later, the pregnant bride got married at the Chateau des Conde in the groom's native France, and on Oct. 5, 2013, Berry gave birth to their son, Maceo-Robert Martinez. The Academy Award winner is also mother to a 7-year-old daughter, Nahla Ariela Aubry, with her ex-boyfriend, model Gabriel Aubry. Halle and Gabriel have been engaged in a nasty custody dispute since their split in 2010.
Signs of strife between Halle and Olivier first surfaced in the summer of 2015.
In fact, their second wedding anniversary seemed to slip her mind during an E! News interview in July. "Thank you for reminding me," she told Marc Malkin while promoting CBS' sci-fi series CBS Extant during San Diego Comic Con. "I gotta get something fast. I gotta get something fast."
The actress continued to gush about her husband in the following months.
Less than two weeks ago, Halle and Olivier looked like the picture of domestic bliss as they took their son to an early Halloween party in Sherman Oaks, Calif. But despite their best efforts, the writing was on the wall. "They have struggled for a long time and had been living separate lives," a source says. "They waited it out for a while, seeing if things would improve, but they didn't."
As such, the exes' new normal won't feel all that different. "They've essentially been separated for several months," a source says of the California-based pair, "but now they are both ready for a clean break and to move on with their lives."
During the former couple's last year of marriage, Olivier spent much of his time visiting his native France, in addition to working overseas, while Halle was busy filming the second and ultimately final season of CBS' Extant in L.A. "They have had long stretches of time apart and both seem happier when they don't have to deal with the other. They have a lot of differences culturally and as far as lifestyle goes. Things didn't jive between them and they grew apart," the source tells E! News. "It was a challenge to meet each other's needs and be on the same team."
Watch:
Did Halle Berry Forget Her Wedding Anniversary?!
This will be the third divorce for Halle and the first for Olivier. Halle was married to baseball player David Justice from 1993 to 1997 and was to musician Eric Benét from 2001 to 2005. Three years before meeting Olivier, Halle famously told InStyle, "I will never, never get married again."
Though Olivier would later change Halle's mind regarding marriage, theirs wasn't a storybook romance. When the couple first got together, they were already on rocky ground. "They had an incredibly passionate bond with one another, but with that comes big highs and lows. They fell madly in love with one another, but at times it did feel like everything was against them," an insider reveals to E! News, explaining, "As a couple they constantly had a lot thrown at them."
"The stresses they were dealing with were way more than what a normal newly married couple would have to handle," the insider says of the internationally known actors, who often argued about whether their family should reside in L.A. or Paris. "While at times the problems brought them closer together and made them determined to beat the odds...with time, these things can take their toll." In addition to disputes regarding their living situation, the insider notes that Halle and Olivier "were also at different places in their careers, and that would cause some issues."
Making matters worse, per the insider, Halle and Olivier are "very strong willed" people. "At times, that would cause friction and they would have power struggles."
Post-breakup, Halle and Olivier are focusing on their son as they prepare for what's to come. "We wish each other nothing but happiness in life," the actors told E! News in a statement Tuesday, "and we hope that you respect our and, most importantly, our children's privacy as we go through this difficult period."
As of press-time, Olivier has yet to file a response to Halle's divorce petition.