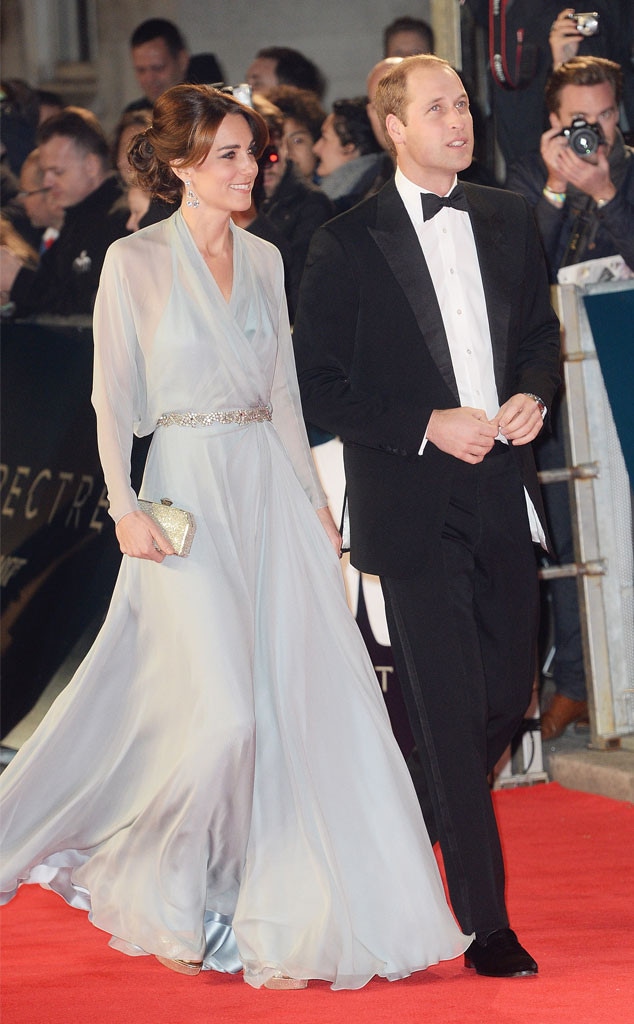 Dave J Hogan/Dave J Hogan/Getty Images
Step aside, actors! Royalty has arrived on this red carpet.
Prince William and Kate Middleton turned heads Monday evening when they attended the world premiere of the latest James Bond movie, Spectre, in London.
Dressed in an aqua-blue Jenny Packham gown with stunning diamond earrings and a matching clutch, the Duchess of Cambridge was the picture of Hollywood glam when she walked next to her husband down the carpet.
Prince Harry followed close behind in a classic black tuxedo after chatting with director Sam Mendes and some of the film's producers for a few moments before showtime.
Danny Martindale/WireImage
Bond star Daniel Craig was more than excited to have fans, including the royal family, see the movie. Before entering the Royal Albert Hall, the actor expressed his gratitude at the support around him.
"It's just fantastic to see everybody out tonight," he told reporters. "I'm not overwhelmed, I'm very excited and I can't wait for people to see the movie."
So what can the proud parents of Prince George and Princess Charlotte expect in the 24th Bond film? In addition to a new single from Sam Smith, the movie takes Craig's character to Mexico City and Rome.
Along the way, he meets two new Bond girls played by Léa Seydoux and Monica Bellucci.
"I want people to like it. I want people to like it as much as I do," Mendes said at the premiere. "I'm really proud of it, we sweated blood over it for two years. I'm really thrilled and a bit relieved."
Spectre is slated to hit U.S. theaters on Nov. 6.
Love all things Royals? Then you may want to watch the season 2 premiere of The Royals Nov. 15 at 10 p.m., only on E!