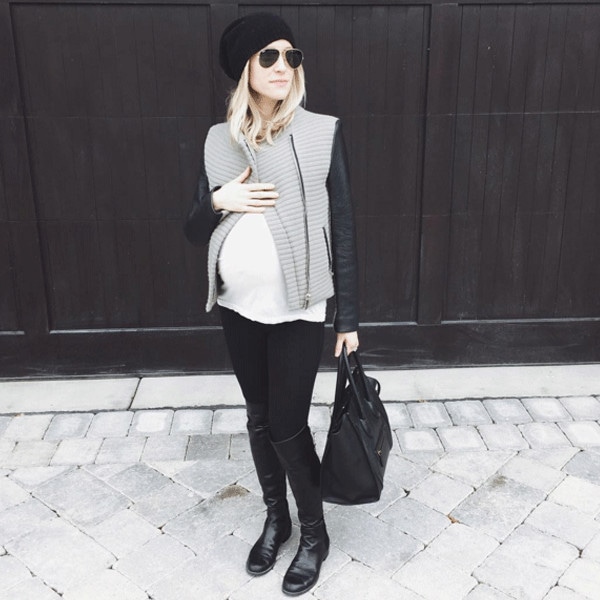 Instagram
Third time's a charm for Kristin Cavallari and husband Jay Cutler!
E! News can confirm the happy couple welcomed their first daughter Monday afternoon. "Saylor James Cutler was born today at 1:32pm!!" the fashion designer wrote on Instagram with a picture of an adorable baby outfit. 
Their baby girl joins big brothers Camden Jack Cutler, 3, and Jaxon Wyatt Cutler, 1.
"Kristin and Jay are so happy!" a source told E! News. "They were surrounded by friends and family. Kristin is so thrilled to welcome her new baby girl to her family! Jaxon and Camden are excited to be older brothers. She is feeling great!"
Just a few weeks before her due date, the 28-year-old reflected on the positive influence her soon-to-be trio of children have had on her life.
"It's hard to believe I will be a mom of 3 in just a few short weeks," she captioned a photo of her fully grown baby bump. "I owe so much to my babies...They have changed me in so many ways for the better."
The former star of Laguna Beach and The Hills announced she was expecting a third bundle of joy with her Chicago Bears quarterback husband in early May. 
"We're at it again!" she wrote on Instagram. "Thrilled to announce baby number 3 is on the way! The cutler crew just keeps growin'!"
While it was a full nine months of pregnancy, the seasoned mom told E! in late September that pregnancy has essentially been a breeze. 
"I feel great for the most part. I have my energy. I didn't throw up once," Cavallari shared. Hopefully the labor was just as breezy! 
The reality star also told E! that she was preparing to get through the labor without hubby Cutler, who she anticipated wouldn't be present because of his travel schedule for games. 
"I'm pretty sure I'm going to be having this baby by myself. My mom will be there, but Jay probably won't be there," Cavallari revealed. "Luckily it's the third one. If it were the first one, I'd be a little more nervous."
Fortunately, everything went off without a hitch. Congratulations to the happy family!
Watch:
Kristin Cavallari Gives Update on Pregnancy No. 3